Last Updated on June 17, 2023 by Sandra Adamson
Top

Nova Scotia Wedding Venues – 20 Tips to Choosing the Perfect Wedding Venue for Your Day
I am so excited to bring you a list of my favorite tips for finding that perfect Nova Scotia Wedding Venue. As well as spotlights on my favorite wedding venues and my bucket list at the bottom of this post. I'm going to give you all the tips and questions you should be asking each venue when you are searching for "that perfect wedding venue-the one". Happy wedding venue hunting!
I recommend you make a handy little pros and cons spreadsheet for each venue because you are going to want to keep track of the things you like and don't like.
20 Tips To Ask Each Wedding Venue
Choosing Your Wedding Theme and Style
First, you want to decide what you want your overall wedding theme to be and feel like. Choose a venue that aligns with your wedding day vision-typically, a rustic, natural/vintage barn won't be a good fit if you are wanting a black tie, elegant, upscale and modern, plated formal event, and visa versa etc. Moreover, discuss the features your ideal venue should have. In addition, think about the cohesiveness of your colors with the colors of the venue.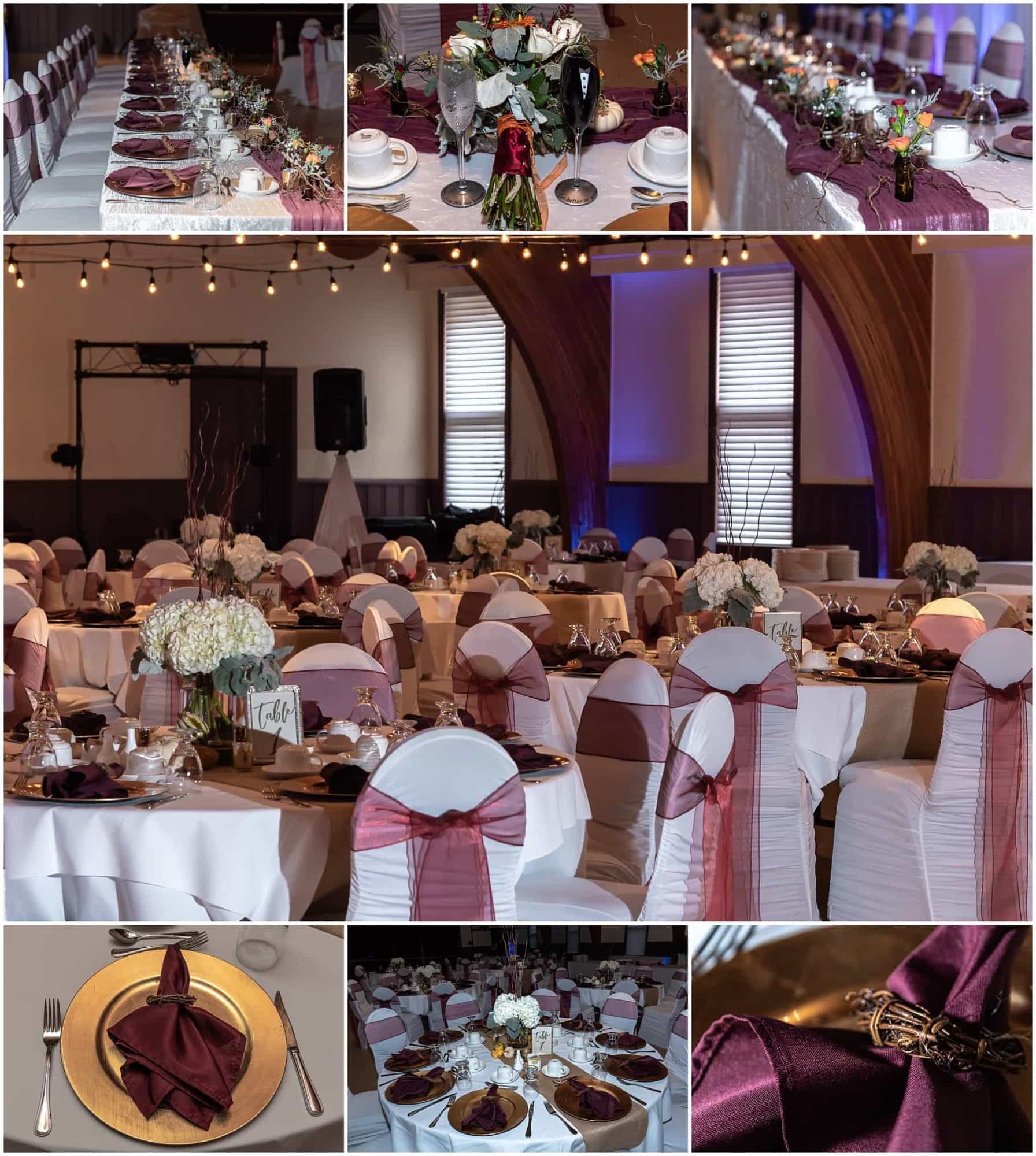 Indoor or Outdoor Wedding Ceremony?
Do you want an outdoor or indoor ceremony? Not every venue has the ability to offer both indoor and outdoor options that are gorgeous. So if your venue is 100% an outdoor venue with no set structure for cover, what do they do if it rains?
All-Inclusive Nova Scotia Wedding Venues
Do you want a wedding venue with everything at one location or multiple locations for the ceremony/pictures/reception? Keep in mind when you have a ceremony and reception in two different places, is there any traffic to get from one place to the other? Most photography wedding packages are continuous hourly coverage so you need to account for the time it takes to get from one location to another.
What Type of Wedding Venue Do You Want?
Think about the type of Nova Scotia Wedding Venue that accents your wedding day vision based on its location. From Oceanside to lakeside, a hotel or a resort, to a country club at a golf course or a lush vineyard, or perhaps a museum or art gallery or even a classy backyard or my favorite a barn setting! However, make sure you are looking for a venue that's overall ascetic fits your vision.
Determine Your Budget
What is your overall budget for your wedding venue? Venues in Nova Scotia have a wide range of budgets, generally couples invest 30-40% of their overall wedding budget for the wedding venue locations alone.
What Does The Wedding Venue Offer
What does each wedding venue offer for your wedding day? Do they include table linens, tables, chairs, full catering services, wedding day set up and tear down? Do they include the costs of clean up, or are you, the client responsible for the removal of all trash? etc
Accommodations and Parking
Does the wedding venue have accommodations or parking for guests onsite? Consider your guest's experience, if you know you'll have a pretty good reception party and the alcohol might be flowing steadily, would a venue with accommodations they can book or would renting a shuttle bus to take guests safely to their booked accommodations be wise?

Are You Working With a Wedding Planner?
Talk with your wedding planner. see if they have worked at the venues you are considering in the past and what their experience there has been. Was the day's workflow easy? In addition, were the reception and ceremony spaces too far apart to easily move things in a timely manner?
What is Your Guest Count?
How many guests are you inviting? Can the venue of your dreams accommodate that number or will you have to cut your guest list to pick your perfect venue?

Halfway through the 20 top tips for choosing your perfect Nova Scotia Wedding Venue!
Booking Your Wedding Venue
Consider the timeline of booking your venue, because most venues in Nova Scotia book out 12-18 months in advance for prime and popular dates but that doesn't mean you can't luck out sometimes with less time.
Wedding Date and Wedding Venue Availability
Consider your ideal wedding dates and venue availability. Don't be afraid to be a bit flexible and book a weekday or Sunday wedding! More often than not, guests are only too happy to take a vacation day to celebrate AND you might save a pretty penny too for an "off day".
Wedding Venue Set Up and Tear Down Timeline
Wedding venue timelines? What time can you enter the venue on the day and what time do you have to have everything broken down and cleaned and be off the property on the day? Above all, does that work with your vision for your day?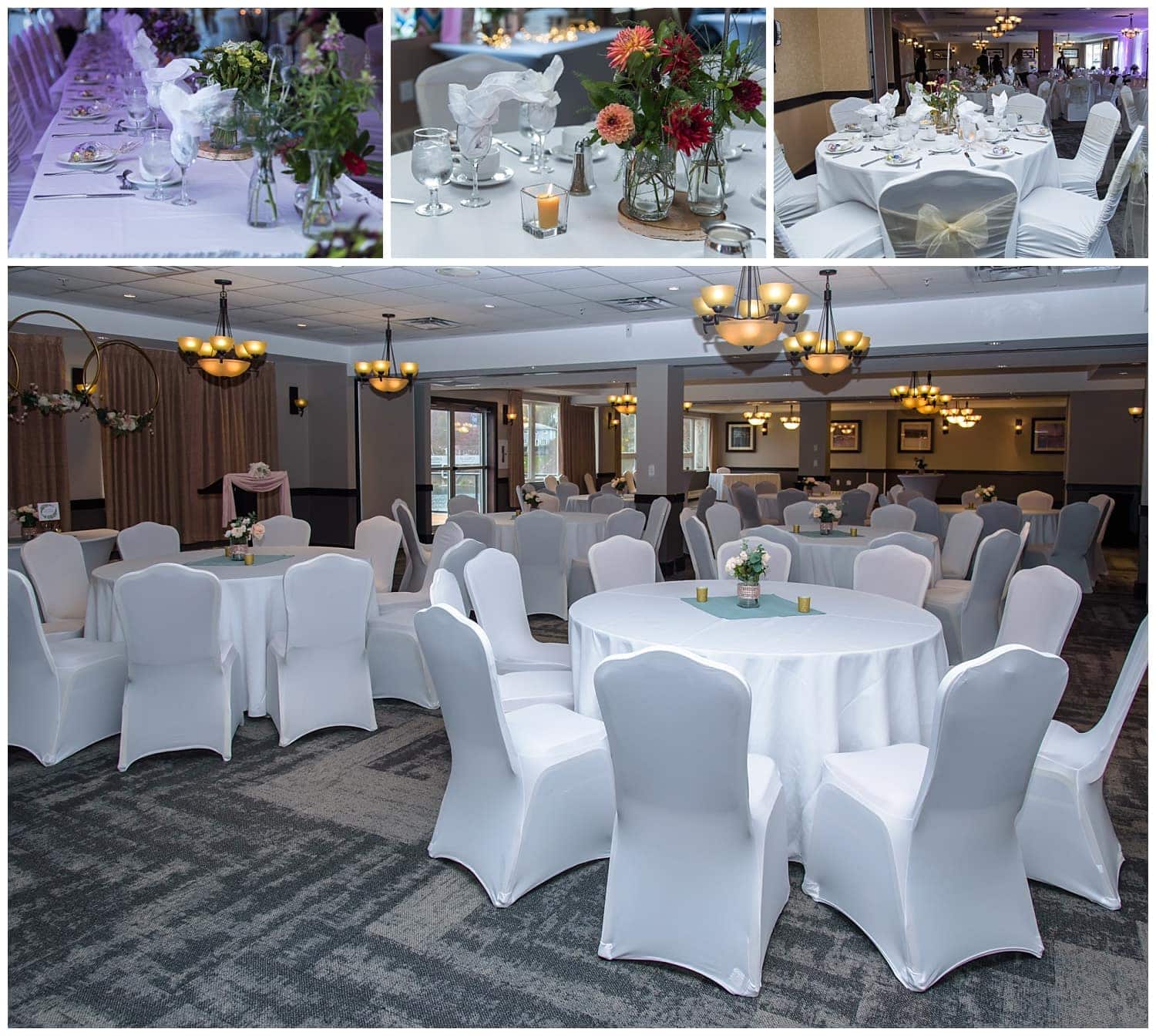 Wedding Venue Policies
What are the wedding venues' backup plans, cancellation plans and policies? What do they do in bad weather on the wedding day? How about during a serious global pandemic? And how do they handle it if goodness forbid you need to cancel or postpone the day?
Wedding Venue Restrictions
Can you have sparklers on the day during send-off if you want? What about alcohol? Can you have a full bar or just a wine/beer bar? Can you bring your own outside caterer in or do you have to use in-house catering? How can you decorate, can you put things on walls and on the ground?
Wedding Venue Layout
What is the typical wedding venue layout for all aspects, getting ready/ceremony/cocktail/reception? Are you limited to just one room for everything or do they have separate rooms for each aspect? Can you change any of that at all?
Schedule A Walk Through
Schedule a walk-through with your top choices of wedding venues fairly close together (same day and weekend if possible) so you can compare everything fresh in your mind. Make a pros and cons list for each venue.
Wedding Venue Referrals
Ask for referrals from past couples and vendors who have worked at the venue in the past. However, if a venue has a lot of reviews online you might not even have to ask for this.
Can You Hire Outside Vendors
A big question, can you hire outside vendors? For instance, pay attention to venue lighting/uplighting, intelligent lighting in-house, or if you'll need to hire an outside vendor to light the space the way you want. And what about wedding vendor insurance? Do they require copies of each vendor's insurance?
Onsite Wedding Coordinator
Does the wedding venue provide an onsite coordinator or do they have you hire someone out of house or elect a friend or family member to be the point of contact throughout the day?
Wedding Venue Exclusivity
Do you have the exclusive use of the venue for your day? For instance, are there multiple spaces that can be rented on the same day by other parties and events? How will that affect the wedding venue's attentiveness for your wedding day?
My Favorites and Bucket List of Nova Scotia Wedding Venues
Now that you are armed with this comprehensive list to take with you on your venue search, here are the links to some of my personal favorite venues in the area. Be sure to check them out and see if one of them is also the perfect fit for your day! Rates and capacity numbers listed, are current when this blog post was first published. They are subject to change at any time.
Nova Scotia Wedding Venue Spotlights
Get the wedding venue facts directly from the venue's coordinator in a short interview I have had with them. A spotlight on all the pertinent information couples need to know about the venue including guest capacity, pricing, what's included and so much more. I am always adding new venue spotlights to this blog so check back often you may find the venue you're looking for here.
Nova Scotia Wedding Venues
I am always adding new wedding venues that I photograph as the years move along so always check back. You may find a unique, out-of-the-way gem, you didn't know existed. I've grouped them into categories based on what my couples are looking for esthetic-wise.
more related wedding advise on the blog …
Wedding Resources
1. For great wedding planning ideas visit the knot and weddingwire!
Capturing your L❤VE story is my passion…let's chat!