Last Updated on April 14, 2023 by Sandra Adamson
How to Create A Wedding Day Timeline
Creating a wedding day timeline can be a little overwhelming. Especially if you don't know how much time you need for each aspect of your wedding day.
"One of the most helpful things
Sandra did for us was take charge of the schedule.
She's like a magician with time, she fit in everything we wanted"
~ Heather & Neal
Things That Impact Your Wedding Day Timeline
Morning, afternoon or evening ceremony?
How will the time of the ceremony effect my time for family and wedding party images?
Do you want a first look because you're having an evening ceremony?
Will sunset impact my time for family and wedding party images due to my ceremony time?
Do I want sunset images?
Do I want night images?
Have you decided on more then one location for getting read and venues? Commute times matter!
Do you want still photography-images of your gown, veil, rings etc?
Do you have or need a second wedding photographer due to timeline constraints?
I always approach a couple's wedding starting with the ceremony and the dinner. These two aspects are always set in stone. We the work your timeline around those two things. By discussing what images are most important to a couple, images they can not do without, a timeline will start to emerge. Below are some things to consider during every portion of your wedding day.
There are so many things to consider in planning for your big day. If you have a great photographer they will help guide you through the planning of your day from beginning to end. They will make sure you get everything you need and not a moment is missed.
Still Wedding Photography
Do you want pictures of your gown, veil, shoes, flowers, rings, invitations etc? Do you want these images for the groom as well? I recommend you allow 1 hour for these images for the bride. 15 min for the groom. If you can have all of your items in one place on your wedding day, ready for your photographer it will allow better use of their time.
Wedding Prep
All wedding coverage is continuous and this includes commute times. If you have just one photographer, time needs to be considered if they have to travel to more then one location. Are the bride and groom getting ready at different locations? Are the bride and groom going to a salon or barbershop then to a second location for getting into wedding attire? Commute times matter.
For getting ready I recommend 1 hour for the guys. For the girls, between hair, makeup and getting into gowns, I recommend 4 hours. This does not include your commute times between locations.
Talk with your makeup and hair stylists to find out what timeframe they need. Timeframe will depend on the number of girls in your bridal party. If they are dealing with 4-5 girls plus the bride, you're going to need atleast 3 hours. The bridal party getting into their gowns minimum one hour. If there ever is a crunch time during a wedding it's during this timeframe.
I always work with a second photographer. If you are dealing with a one photographer situation you are going to need atleast 5 hours for getting ready plus commute times. Usually my second photographer leaves the bride and myself at the 3rd hour mark to cover the groom.
First Look
Have you decided to have an evening ceremony? A first look may be something you might want to consider as well as having your family and wedding party images done prior to the wedding. I recommend 30 minutes for a first look.
Wedding Ceremony
When are you having your wedding ceremony? Mid morning, mid afternoon or evening? Ceremony length is usually 20 minutes to 1 hour as a norm.
You've chosen a church for your ceremony, a park setting for your family and wedding party formals and a different location for your reception. Again remember, commute times for all these locations needs to be taken into consideration.
Do you want wedding ceremony stills? If so, I recommend giving your photographer 30 minutes prior to guests arriving to get these images.
Receiving Line
Do you want a receiving line? What is a receiving line? The wedding party, bride and groom line up while all the guests walk through the line shaking hands and congratulating the newly married couple.
The time needed for this will depend largely on how many guests will be at the ceremony. 150-200 guests I recommend allowing 45 minutes. If a couple decides they don't want this then I put in a 20 minutes buffer. You are never able to get away immediately after the ceremony, guests will always stop you on the way out the door.
Cocktail Hour
When creating a wedding timeline the usual amount of time for cocktail is one hour. During this timeframe the family and wedding party are usually having their formal images done. Do you want a photographer to cover cocktail hour? If so, you need a second photographer.
Family and Wedding Party Photos
Your photographer will usually tell you what they require. For my clients, 2 hours is mandatory. That time frame may decrease depending on the formal image list we create. As a guidline on average, I can shoot 25 groupings per hour. If you have large families and you are close to the 50 image mark on the formals list you will need that 2 hours for photos.
Keep in mind if you have a mid afternoon or evening ceremony, beware of the sunset time. Once the sun sets, that's it for the formal session.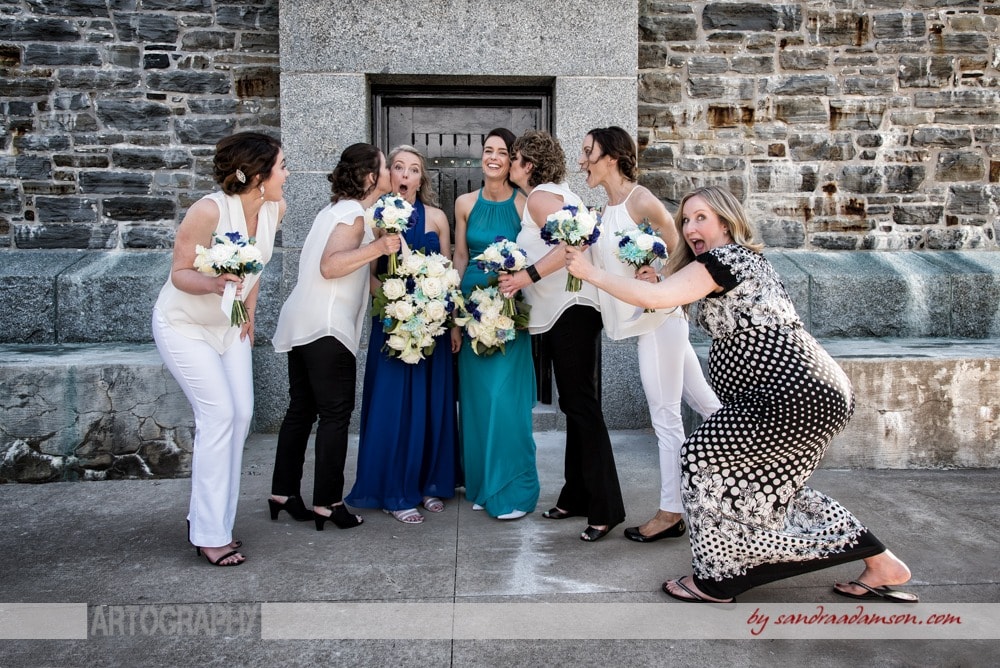 Wedding Reception
Do you want reception stills? Images of all the reception details you've paid hard earned money for? I recommend giving your photographer at minimum 30 minutes prior to your guests entering the reception area. If you find you are unable to squeeze this in to your timeline most photographers will capture these images throughout the night. I usually capture these while you and your guests are eating if I can't get in the room beforehand.
Wedding Party Entrance
Wedding party, bride and groom entrance allow for 15 minutes.
Dinner
I recommend a minimum of 1 hour for dinner.
Wedding Speeches
This highly depends on how many people you have planned to make speeches. Four to five speakers allow 30 to 45 minutes.
Wedding Cake Cutting
Are you cutting the cake? Are you going to feed each other cake? I recommend allowing 15 to 20 minutes for this.
First Dance and Parent Dances
Are you having a first dance, parent dances? Will your parent dances be done at the same time or separately? Depending on the answers to these questions I recommend 5 to 15 minutes.
Bridal Bouquet and Garter Toss
Do you want to toss the bouquet, toss the garter? Will the guy who caught the garter be putting the garter on the gal who caught the bouquet? I recommend allowing 15 to 30 minutes in total. Sometimes it take a while to gather all the girls and gals together for the toss.
Wedding Games
Are you planning on having games? Again, this will depend on how many you are planning on but I recommend allowing 15 minutes per game.
Samples of Timelines
Feel free to download a PDF of my past wedding photography timeline schedules, along with a recap of this blog post to help you create your own wedding timeline schedule. I hope I've enlightened you and helped you to create a truly great wedding timeline schedule for your special day. Creating a wedding timeline that enables you to get every possible detail caught on camera or video.

Wedding Resources
1. For great wedding planning ideas visit the knot and weddingwire!
Capturing your L❤VE story is my passion…let's chat!