Last Updated on July 24, 2022 by Sandra Adamson
What to Wear For Your Engagement Photos Shoot
Are you wondering what to wear for your engagement photos shoot? Wondering what you should be thinking about when getting ready for that engagement session? A good starting point is to talk with your photographer as they photograph a lot of engagement shoots;) Today I am going to drop a few tips on what I tell my couples when they are preparing for their engagement photos. The most important thing to remember is to be yourself at all times before and during your engagement session
Choose The Season, Day and Time
The first thing you need to think about is the season you want your engagement session to be in? Spring, Summer, Fall, or Winter, the seasons will bring a different feel to your engagement photos. But not only the season, the time of day is a big consideration as well. Most photographers will tell you if it's a bright sunny day 11am to 2pm is not an ideal time of day for an engagement session. The sun will be at it's highest point in the sun and without fill flash you're going to end up with racoon eyes. Choosing a photographer who can work with fill flash is essential in this situation. If it's an overcast day, time of day does not matter. The clouds are a great natural sun filter and will make your images look much richer in color. Or perhaps you are a couple who would like the golden hour. This is the hour before the sun acutally sets. As you know the sun sets at different times of the day depending on the season you choose.
Choose A Location That Speaks To You
The second thing you need to think about is the location you are going to choose. I often tell my couples choose a location that means something to them. If it means something to both of you, it will bring out the emotions even more so with both of you. Are you a couple that likes urban, historical or park settings? All of these aspects will impact the look of your engagement photos in different ways. Maybe you are a couple that likes a little variety and you want all of that. Make sure the location you choose gives you what you want. Not only that, but think about locations that have lots of natural props for your photographer to use. Things like benches, rod iron gates, trees, logs, urban buildings, heritage buildings, oceans, lighthouses etc.
Urban/Historical Locations
Downtown Halifax is a great place for urban and historical style engagement sessions.
Park Settings
Shubie Park is a great example of giving you a little bit of urban with the lock and a little bit of park setting as well.
What to Wear For Your Engagement Photos Shoot
Where Comfortable Clothes That Make You Feel Good
When you're wondering what to wear for your engagement photos shoot, think comfortable. Clothes that you will not be tugging at. Clothing that makes you feel amazingly yourself. Do not wear anything that you will feel uncomfortable in as that is sure to make you figit throughout your session and it will show in your images. Comfortable shoes are a definite must. Yes those high heels are amazing but if you choose a location where you will have to walk alot those shoes are going to start to hurt. Bring two pairs of shoes if you are going to be in a location like that, your dressy shoes for pictures and your comfy shoes for walking.
Where Clothes That Complement Each Other
Matching outfits and patterned prints are not always the best idea for an engagement session. You should be looking for colors that compliment each other. Busy prints are not always your friend and can be an unnecessary distraction in your photos. We want to make you as the couple pop off the canvas not your clothing. One thing to keep in mind, as a photographer, I am going to take into consideration what you are wearing when placing you against a backdrop. If the backdrop is busy then I won't place you there if you are wearing patterns of any kind as you will just blend into that backdrop. I would opt more for a solid style backdrop in that situation. If you are wearing solid color clothing then I am going to place you against more multi colorful backdrops that make you pop. So what you choose to wear and the location you choose will make a difference.
In the above example she is wearing a colorful pattern dress so I need her to pop thus that backdrop is a more solid color so they both pop off the canvas. In the image below she is wearing a small print and as you can see she gets a little lost in the grafitti backdrop.
Avoid Neon or Bright Colored Clothing
Avoid anything bright, like neon colors, bright oranges, yellow, lime greens etc. If it's a bright sunny day those colors will actually reflect into your skin. Instead, choose pastel, cool tone colors, or neutral tones. Your eye will always be directed to the brightest point in any photograph. We want your face to be the brightest point in a photograph because we want the viewers eye to be drawn to your face.
Layer Your Clothing
Usually there really isn't time for more then one clothing change as most engagement sessions are about an hour. The more clothing changes you make during a session the less shooting time there will be so consider layering your clothes. Choose scarfs, cardigans, jewelry, shoes, for example that can be removed.
Bring Props
Don't forget to bring props with you, like chalkboards or signs. These are a great way to express your newly engaged status! How about a themed styled engagement session?
Save The Dates, Wedding Invitations and Guestbooks
Think about using your engagement photos for save the date cards for your guests or perhaps in your wedding invitations. On the day of your wedding have a guestbook created using your engagement photos or incorporate a photo into a guest welcome sign on an easel. So many options.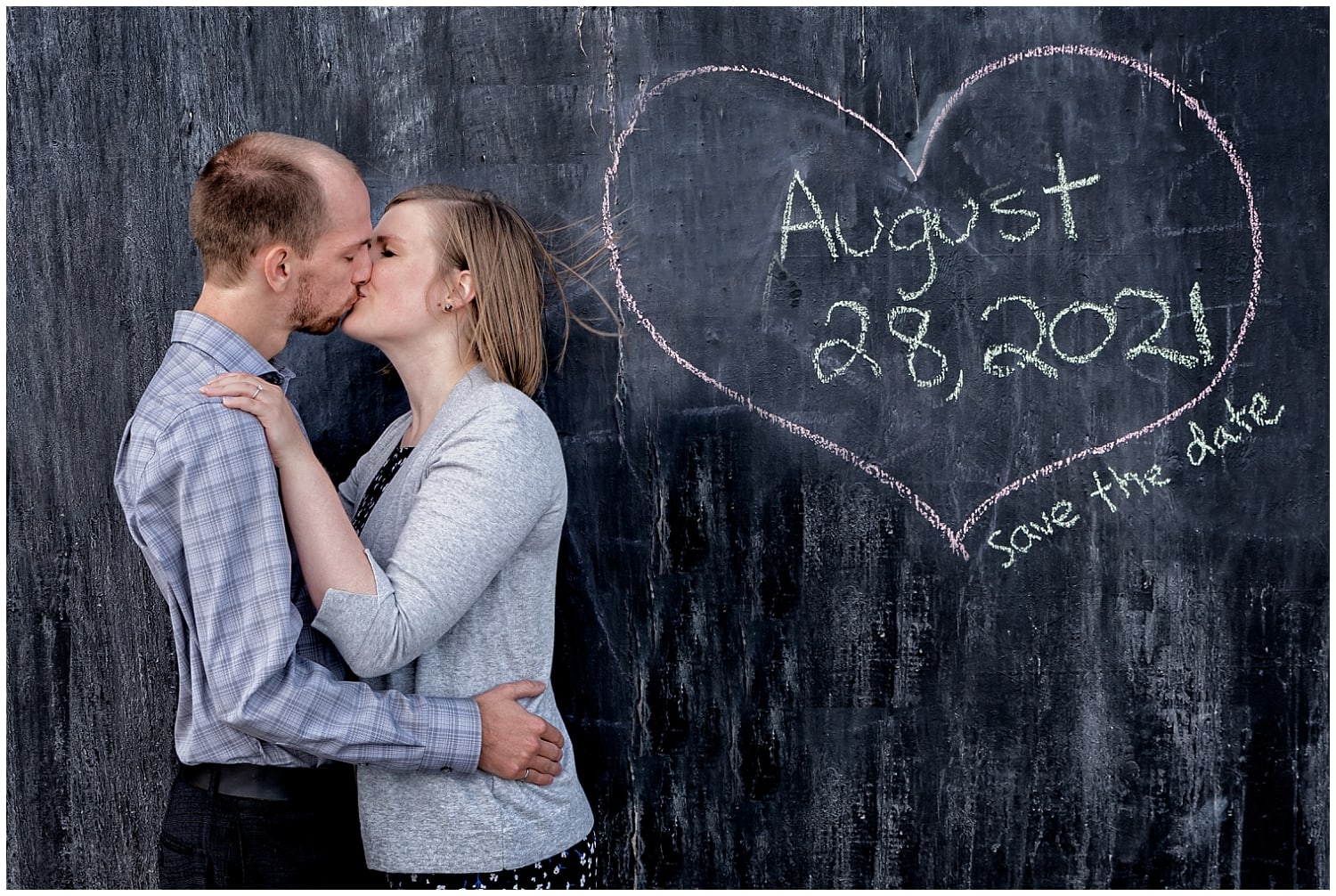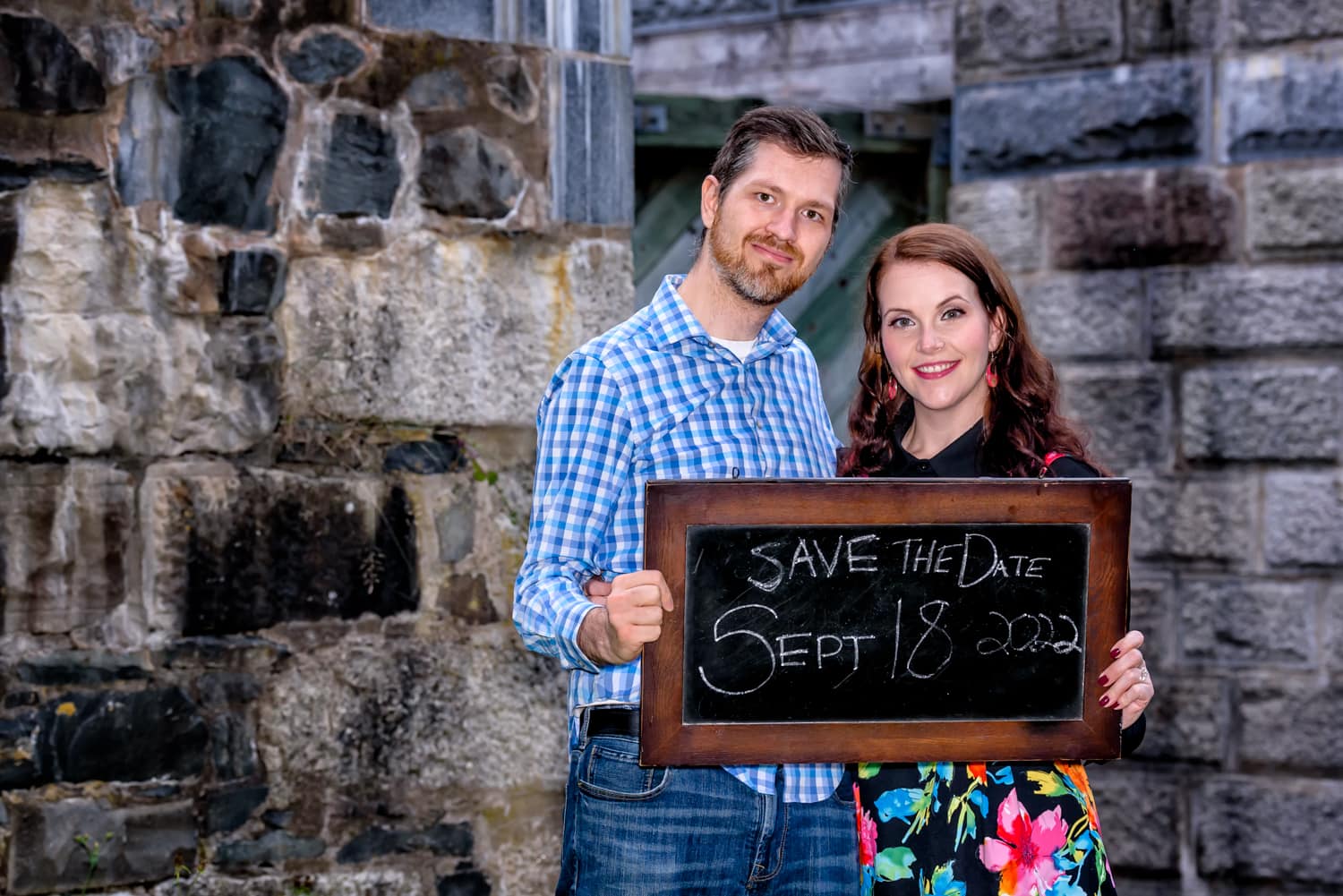 Wedding Resources
1. For great wedding planning ideas visit the knot and weddingwire!
Capturing your L❤VE story is my passion…let's chat!