Wedding Photography Testimonials and Reviews
Take some time to read what my previous clients have said in these wedding testimonials and reviews. Customer service means everything to me. I strive to give my couples the absolute best experience I can!
Facebook Reviews
Google Reviews
Julie Smallwood
2022-01-02
We've hired Sandra as our wedding photographer for later in 2022. So far we've only got our engagement photos done with her, but the experience was amazing!! She captured some incredible REAL moments between my fiancé and I. We couldn't be happier with her work and we cannot wait to see what she captures on our big day!
Marisa Boudreau
2021-12-31
Due to the pandemic my wedding ended up happening in two separate parts over the span of 2 years. Sandra was with me every step of the way. From the moment we sat down to meet her and she started telling us about her process we were hooked. She is organized, detail oriented, passionate, and caring. Through all the craziness and the stress, Sandra keeps her cool and works with her team like a well oiled machine. I will never be able to say thank you enough for everything that she did or for the amazing photos and video that she took. If you need a photographer, she is the one you want!
Sandra and her team were fantastic to work with! She helped us work out a schedule for our wedding day to make sure we got in all of the shots we wanted. She thought of every detail to make the photos run smoothly! She was flexible and worked well with our requests. Her prices are very reasonable and the shots were BEAUTIFUL. We are so happy!
Shannon Lauriston
2021-09-06
Sandra and her team were attentive and captured our wedding flawlessly, including hilarious outtakes. She got photos of our wedding that captured little details I was too caught up to notice in the moment, and I am so thankful we had her there to take wonderful images we can treasure for the rest of our life together.
We can not say enough good things about Sandra. Right from the beginning she was quick to reply and answered all of our questions. During the engagement session we were both a little nervous, not enjoying being in front of the camera. She instantly put us at ease and let us be ourselves, which truly made the photos special, because they were authentic to who we are as a couple. She definitely knows her business, she kept everything organized for us, got our input on the feel we were going for , but added her own personal touches. She checked in prior to our session to be sure we were ready and made sure we didn't have any other questions. She is passionate about what she does and it shows not only in her work, but in her interactions with you. You definitely will not be disappointed booking with Sandra. We are very much looking forward to her being a part of our wedding day next year!
More Reviews
MEGAN AND JARRETT
Bedford Basin Market, Halifax Nova Scotia
We just finished watching the full feature and we absolutely love it! It turned out so good! You did a great job! We just wanted to thank you again and let you know that we have received so many comments about how beautiful our pictures turned out and everyone absolutely loved the highlight video! I've even had friends saying "I wish I had done that at my wedding".
Thanks again!
Megan & Jarrett
DEBORAH AND TIMO ERKILLA
Best Western Chocolate Lake Wedding, Halifax Nova Scotia
Sandra was so great to work with, from the very beginning! We were first impressed with her organization and in depth presentation of her services. She take such pride in what she does and it shows through her images.
Our engagement session was great and the pictures turned out so well. It was a good indication to us of how our wedding pictures were going to look, and she didn't disappoint.
Our wedding day was so wonderful and she helped us to stay on track with timelines and was able to get all the images we wanted. The weather didn't cooperate fully, but we were still able to find alternative locations for pictures and they look amazing! We're so happy with the results and can't wait to create books and print images to hang on our walls for years to come. She was able to capture not only our important memories, but allowed us to see our wedding through someone else's eyes and perspective. We were so in the moment it's easy to miss so much. Having these pictures we will treasure for our long and happy marriage and life together is priceless.
We were the first clients to use Sandra's new website imaging software, so we were able to help her work through some of the initial kinks to make sure the program was running correctly. She was right there every step of the way to make sure everything was running smoothly and was able to answer any technical questions right away to allow us to have our pictures ready to download and print. I highly recommend Sandra for all your wedding photography needs, she will help make your wedding day memorable.
DANIELLE AND ALEX MCCONNELL
Digby Pines Resort Wedding, Digby Nova Scotia
We will recommend Sandra to everybody. She has such a passion for what she does, not to mention her prices are very reasonable. She is very accommodating and talented. We are thrilled we had her and her team on our wedding day! We loved that she offered "sparkler" night photos, it is such a unique thing we were very excited for. 10 stars !!
KELSEY AND MICHAEL DUGGAN
Peggy's Cove Nova Scotia Wedding
We cannot say enough good things about Sandra. Our wedding photos are better than we ever could've imagined. She has a talent for capturing the real "raw" moments, that you want to be able to look back on. She was also super flexible with us, as we were one of the couples who had to cancel our wedding during Hurricane Dorian. Thank you so much for everything!
TAMARA AND FRANKIE MCKINNON
Old Orchard Inn Heritage Barn Wedding, Wolfville Nova Scotia
We are so grateful for the photos you took on our special day. You were so well organized and professional and so so talented. Our day was captured in the perfect way and we are forever thankful for that. From the bottom of our hearts!!! Thank you !
MISTY AND JAMES ADAMS
Juno Tower Wedding, Halifax Nova Scotia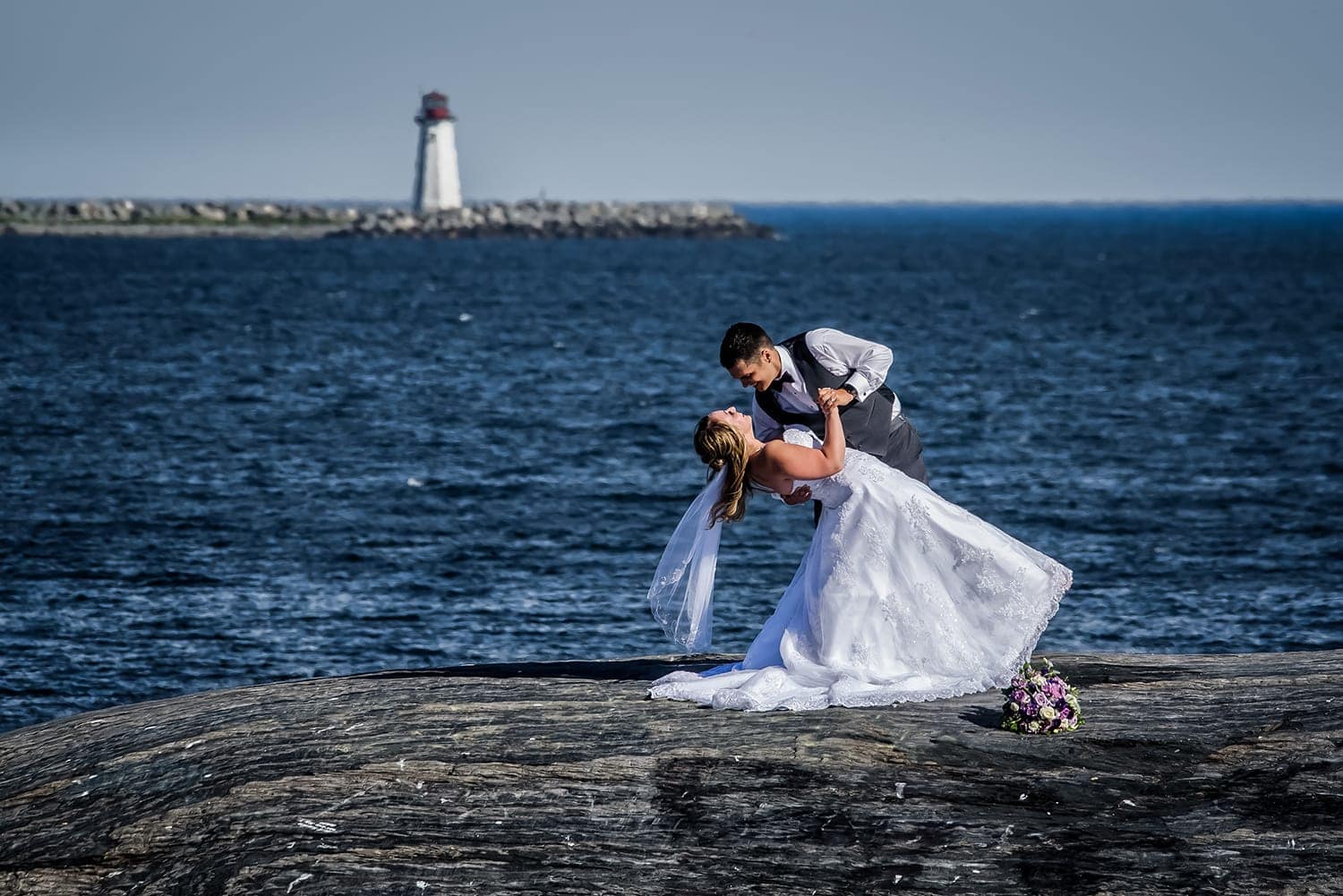 Sandra was very personal from the start. During our first meeting with her, she was very thorough and ensured that we had all the information we were looking for before we left her studio. She checked in with us every few weeks and was excellent for time management on the wedding day. She also came to our rehearsal to ensure we were all on the same page for the big day. We had our photos back within a few weeks (great sneak peeks to hold us over!!) and full feature wedding video within a few months after our wedding. We love all of our photos and video footage and would highly recommend her services to anyone interested! Thank you to Sandra and her team!!
NINA AND RYAN DUFFY
DeWolfe Park Wedding, Halifax Nova Scotia
When I was looking for a photographer, I wanted someone who would capture real beautiful moments. That's exactly what I got with Sandra and her team. At the last minute, we changed some details of the wedding due to some medical complications and Sandra was nothing but professional and accommodating. During the day of the wedding, things were bouncing off schedule as is predictable with any wedding and Sandra just went with it, with patience. She captured some amazing shots that we are still blown away by. We highly recommend her to anyone looking for a photographer. Not to mention, her prices for the quality can't be beat . Thank you Sandra for capturing our most special day !!!!!
HEATHER AND NEAL OZANO
Best Western Chocolate Lake. Halifax NS
There are so many reasons we went with Sandra. Her packages are outstanding, the value is unbeatable, and they included everything we needed and more. Every so often Sandra would introduce add ons to  her existing packages and then add them to our package at no extra charge even though we'd already  signed a contract. We felt from the beginning that Sandra wanted beautiful pictures as much as we did.  She really showed it by pre-scouting the area and figuring out the best places to get the look we wanted. She has a wonderful style but still took into account what our vision was and then improved on it, giving us photos we didn't expect and LOVE. We were lucky to meet Sandra as she began doing  video, they are invaluable. The day goes by so fast it's nice to watch it later. I still can't get through it  without crying. One of the most helpful things Sandra did for us, was take charge of the schedule. She's like a magician with time, she fit in everything we wanted. The final pictures speak for themselves, she captured not only the feeling of the day but every single detail. We couldn't be happier! To this day, she's still doing little fixes for me when I ask and maintaining our online gallery. Outstanding service. 
SAVANNAH AND DARREN PURDY
Backyard Wedding, Salmon River NS
Sandra is absolutely amazing! She recently did our wedding, and I cannot stop looking at the pictures!  She went above and beyond my expectations. Highly recommend her for anything regarding photos.  You made our special day that much better by capturing our moments! You rock! 
SARAH AND JORDAN ALLEN
Backyard Wedding, Newport Corner Nova Scotia
Sandra, ever since you added that first sneak peak wedding photo I have not been able to put my phone down. I've been looking through our album 500 times a day and it seems like every time I look at a picture again I find something else I love about it. Having you at our wedding was an absolute joy, from helping to sew my "something blue" onto my bouquet before my wedding to helping me remove stains from my dress before the reception, you went above and beyond what we expected from a photographer. I've gotten more compliments about my wedding photos than I can even count. Everyone is just blown away. You are far from just a photographer, you are an artist and I can't thank you enough.
Thanks for taking the time to read my wedding testimonials and reviews from past clients.
Capturing your L❤VE story is my passion…let's chat!