Last Updated on January 29, 2022 by Sandra Adamson
A Beach Wedding Ceremony with Shannon & Daniel
A beautiful bright and sunny, beach wedding ceremony in Green Bay, Nova Scotia. Shannon and Daniel braved covid and were so increcibly happy that they were able to get married on the date they originally wanted. It was a stunning and quaint ceremony right on the ocean.
Shannon and Daniel met online. Their first date was at a sweet little local cafe and then skating at the Oval. It was Dan's first time skating and he was trying too hard to not say no to anything Shannon requested. He agreed to go even though he didn't know how to skate. Dan was a total champ and only fell once. He didn't even mind that Shannon laughed along with him as she helped him up.
Read Shannon's google review.
The Wedding Cottage Prep Photos
Shannon and Daniel had a wonderful opportunity arise to use her instructor's cottage and the beautiful beach beside it. Given the beautiful scenery, they couldn't say no to the opportunity to have an outdoor wedding on the ocean, where all their guests would feel safe and confident, considering current covid restrictions.
They didn't really have a specific theme/style for their wedding, just went with what they could do on their small budget. They chose colours they both liked and that would work nicely on the beach.
The First Look Wedding Photos
Dan's favorite part of their wedding day was getting to see Shannon in her wedding dress during their first look.
The Beach Wedding Ceremony Photos
Shannon's favorite part of their wedding was the vows they shared during their ceremony. They hadn't discussed them with each other before the wedding but both mentioned Dan's socks and how they never quite end up fully in the laundry. It was such a perfect coincidence and she really felt like it shows how in sync they are as a couple.
The Beach Wedding Party Photos
Shannon and Daniel almost had to postpone their wedding due to covid, but decided six weeks before their intended date to go ahead with their plans. It was a whirlwind but having a tiny outdoor wedding was beautiful and delightful to them.
It's all about having fun on your wedding day even during the wedding photos! I've always loved Harry Potter.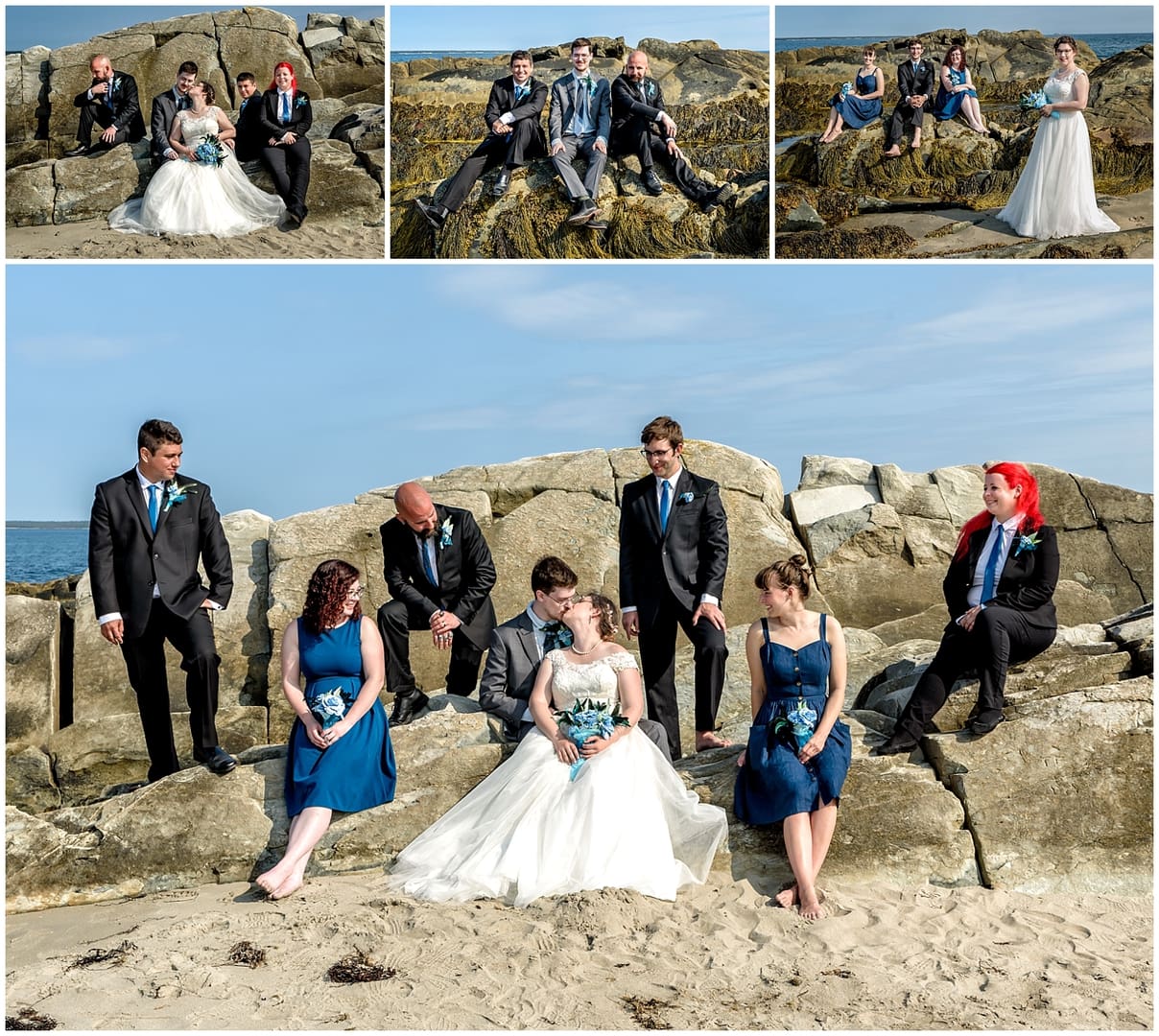 Love that Daniel talked her into going into the ocean. Love love love these ocean images, along with the reflections in the water!
Their Advise To Those Planning A Wedding
Always be flexible and trust those around you to be wishing you the best. Remember to take the time to enjoy the process and that your love for each other is the driving force behind the whole wedding. Let it be a reflection of your relationship and your love for each other. Listen to each other.
Wedding Vendors
Hair/Makeup- Self done
Officiant – Paul Surrette
Planner & Decorator – Shannon Lauriston
Flowers – Shannon Lauriston
Food – Dilly Dally Eats Cafe
Wedding Resources
1. For great wedding planning ideas visit the knot and weddingwire!
Capturing your L❤VE story is my passion…let's chat!