Last Updated on March 13, 2022 by Sandra Adamson
NS Engagement Photo Locations
Below you will find some of my favorite NS engagement photo locations. Wondering where you should have your engagement photos done?
I always advise my clients to think of places that mean something to both of them. My preference for photography locations are places that have lot's of props to use like rod iron gates, benches, rocks, stone work, steps and cedar. I also prefer to have urban, rustic and park like settings all in one location for more options. Many of these areas are also amazing for family portrait locations too! Below are some of my favorite locations to date.
Local Outdoor Halifax Engagement Locations
My absolute favorite location for engagement photos is along the Halifax waterfront. From the Historic Properties to Pier 21, there is such a long stretch of great photo opportunities. If you would like access to my online scouting locations folder which include many different locations throughout the HRM and the province, send me an email request! There are many images in that folder to give you ideas for your own engagement session.
Historic Properties
I love the Historic Properties. There are just too many options in this area. From the rod iron and wooden benches, to the rod iron anchors, the brick urban and the cedar rustic feel. Not to mention the cement wall by the ferry terminal with the green veins and beautiful antique looking street lights. Just too many options for a photographer who loves the urban and rustic environment.
Check out some of my favorite engagement shoots at this location!
Halifax Waterfront Urban Style
Don't stop at the Historic Properties, if you love the urban feel of engagement photos keep walking down the Halifax waterfront for more amazing backdrops.
Check out some of my favorite engagement shoots at this location!
Dingle Tower and Sir Sandford Fleming Park
This is another favorite location of mine ever since they completed the extensive renovations they did at this location. You have a little bit of the urban with the tower, the park itself and even a few wharfs jutting out into the water. I love all the new stone work and the waterfall! Or take a walk through the forest for your engagement photos, so many options.
Check out some of my favorite engagement shoots at this location!
Point Pleasant Park
The Logan street park with the water fountain, when it's on and the castle like Gatehouse is another favorite of mine when it is overcast. Located at the corner of Yonge and Point Pleasant Drive. It's not the greatest place if it's really sunny as there is no shade cover to speak of. So if you want to use this location make sure its a cloudy day. After that I always have my clients meet me at the bottom parking lot to go through the park. There are lots of forts to play with as well as more park light settings. The lighthouse in the background is amazing too if you use a longer lens like the 150-600mm lens and can pull it closer to your clients!
Check out some of my favorite engagement shoots at this location!
Halifax Public Gardens
The Public Gardens is an amazing location for engagement photos, with so many options right in the heart of Halifax. From the rod iron gates, to the castle like building in the back to the plentiful gardens and ponds. Here are some images from a recent engagement shoot to give you a better idea.
Check out some of my favorite engagement shoots at this location!
Shubie Park in Dartmouth
Shubie Park in Dartmouth is another great place for an engagement session. The locks along with all of the pathways are gorgeous. A very stunning environment for engagement photos.
Canal Street & Martins Park & Ferry Terminal
I am a lover of grafitti so Canal Street is one of my favorite grafitti locations. I think engagement photos are perfect in this setting. There are also lots of rustic and textured backdrops along the Dartmouth waterfront perfect for engagement photos during the day. At night the waterfront with the Halifax city lights in the background is gorgeous.
Local Indoor Halifax Engagement Locations
Another great option is to have an indoor lifestyle engagement session if you're not crazy about outdoor shoots. Choose an indoor location that means something to both of you. Perhaps a location that has become a tradition for both of you as a couple. Be sure to contact the owners of the location to make sure they will allow an engagement session and talk it over with your photographer.
Lot 6 Bar and Restaurant
Lot 6 is a very popular bar and restaurant that is also a wedding venue. I always tell my couples, choose a location that means something to both of you because past memories will surround you during your engagement session bringing every emotion out.
NS Engagement Photo Locations
Mount Uniacke House
I love the Mount Uniacke House because I love rustic locations. From the barns to the cedar style house to the park setting and trails this is a great place for engagement photos. With props like the pillars on the house and the wishing well there are lots of props to play with around the grounds.
Peggy's Cove
I love Peggy's Cove, it such a scenic location with so many options. The lighthouse, the waves, the stones, the picked fences, the cedar shacks, so many fisherman lobster traps, the boats, too much to talk about. When the waves are crashing behind a couple, its absolutely amazing.
Musquodoboit Train Station Museum
It is illegal to use real train tracks for photography. You will face possible death and a $500 fine if you survive. Please don't take your clients to live train tracks. When my client's ask for train track images I take them to the Musquodoboit Train Museum which is very close to where I live.
Lighthouse at Sandy Cove, NS
This was a location my client's chose as it was a special place for both of them. I love lighthouses and beaches so it was right up my alley.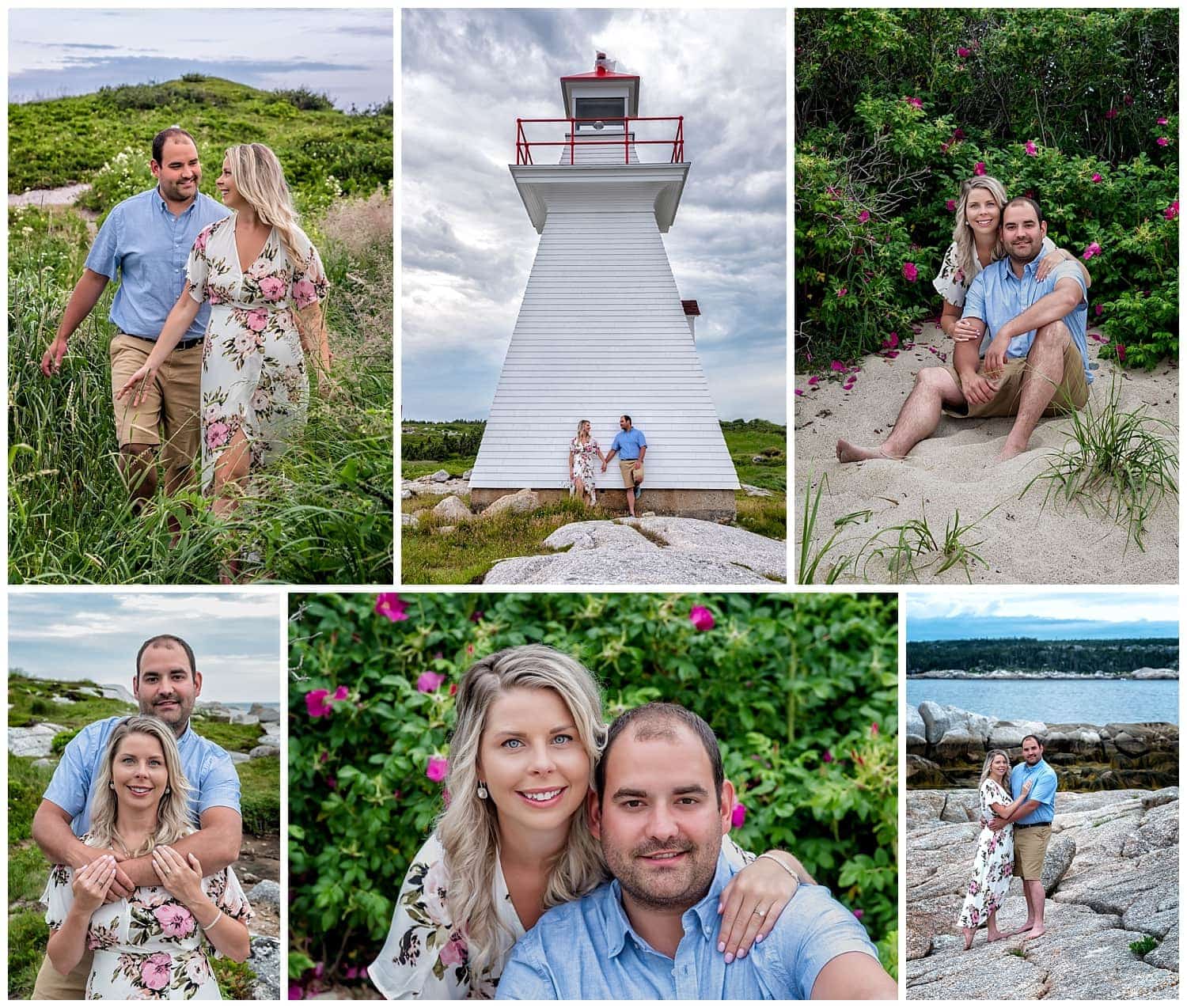 Wedding Resources
1. For great wedding planning ideas visit the knot and weddingwire!
Capturing your L❤VE story is my passion…let's chat!