Last Updated on June 21, 2023 by Sandra Adamson
Old Orchard Inn Barn Wedding Venue
The Old Orchard Inn barn wedding venue is an absolutely stunning Nova Scotia venue. From the beautiful apple orchard in the backyard of the inn to the rustic barn. This venue offers you more then just a rustic wedding venue. It also has the Orchard Hall for the more elegant seeking couple. As well as two locations for the outdoor lovers. Rates or capacity numbers listed are current when this blog post was first published. They are subjected to change at any time.
My Weddings
This was a new venue for me in 2019 and it didn't disappoint!
Wedding Ceremonies
The Old Orchard Inn has four options for your wedding ceremony depending on whether you want an indoor or outdoors ceremony. Your options are the Orchard Gazebo, the sundeck for outdoors. The heritage barn located a short walk from the hotel and the Orchard Hall for indoors. If you love rustic the barn is the way to go! If you love outdoors definitely check out the gazebo area which is located in front of the beautiful apple orchard.
Grounds For Wedding Photos
The grounds of the Old Orchard Inn are a dream for a wedding photographer. In the back of the hotel is a gorgeous apple orchard and when the apples are on the trees what a beautiful background it makes. Also in the backyard area is a beautiful rustic wooden trellis great for wedding party photos. On the far right side of the hotel in the back is a beautiful vein style backdrop, great for family photos. In addition to the orchard there are alot of urban and rustic style buildings and cabins on the grounds including the barn itself. So if you are a couple that loves both garden and urban style photos you can get both of these with this venue. They've also go a huge wildflower field across from the Heritage Barn.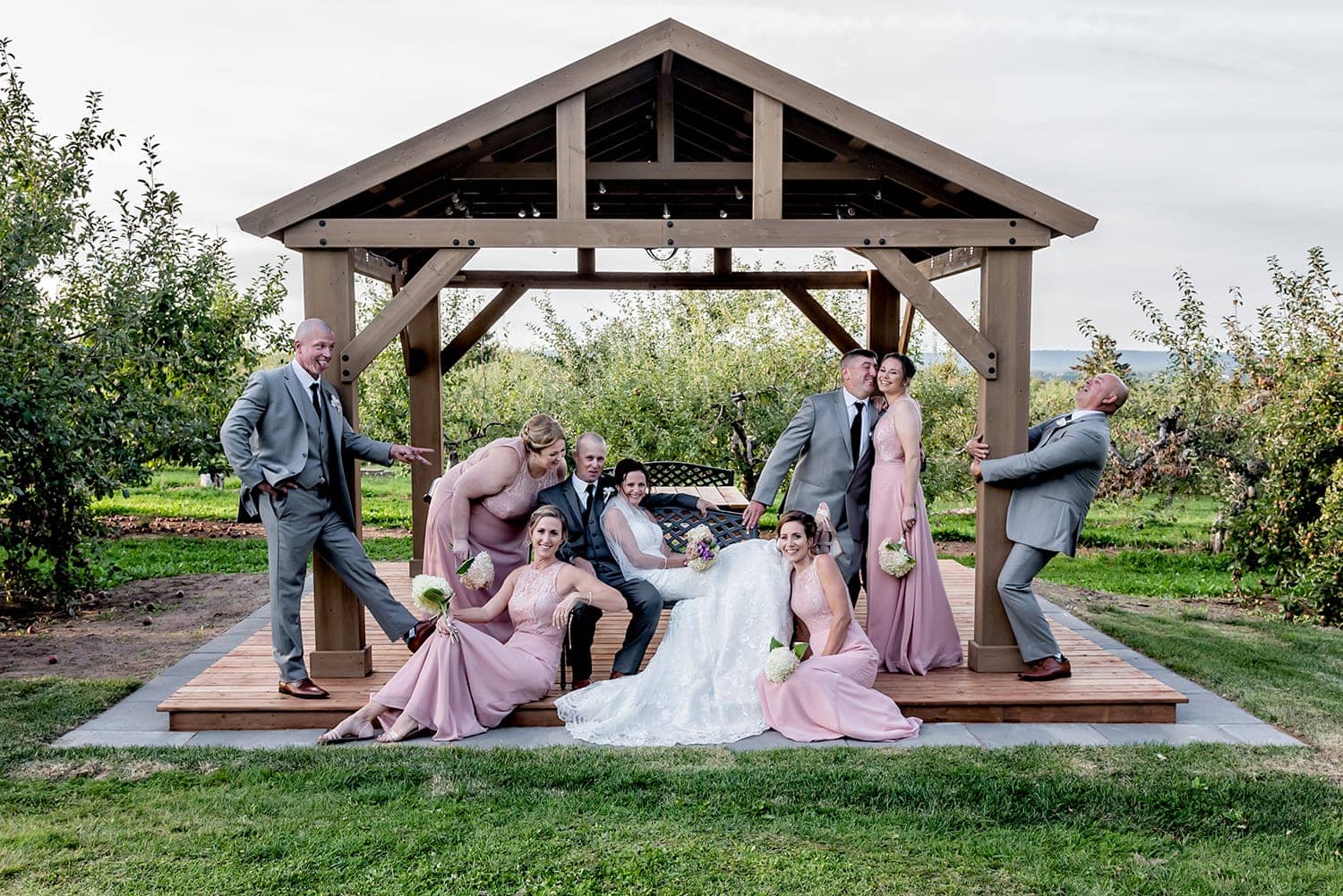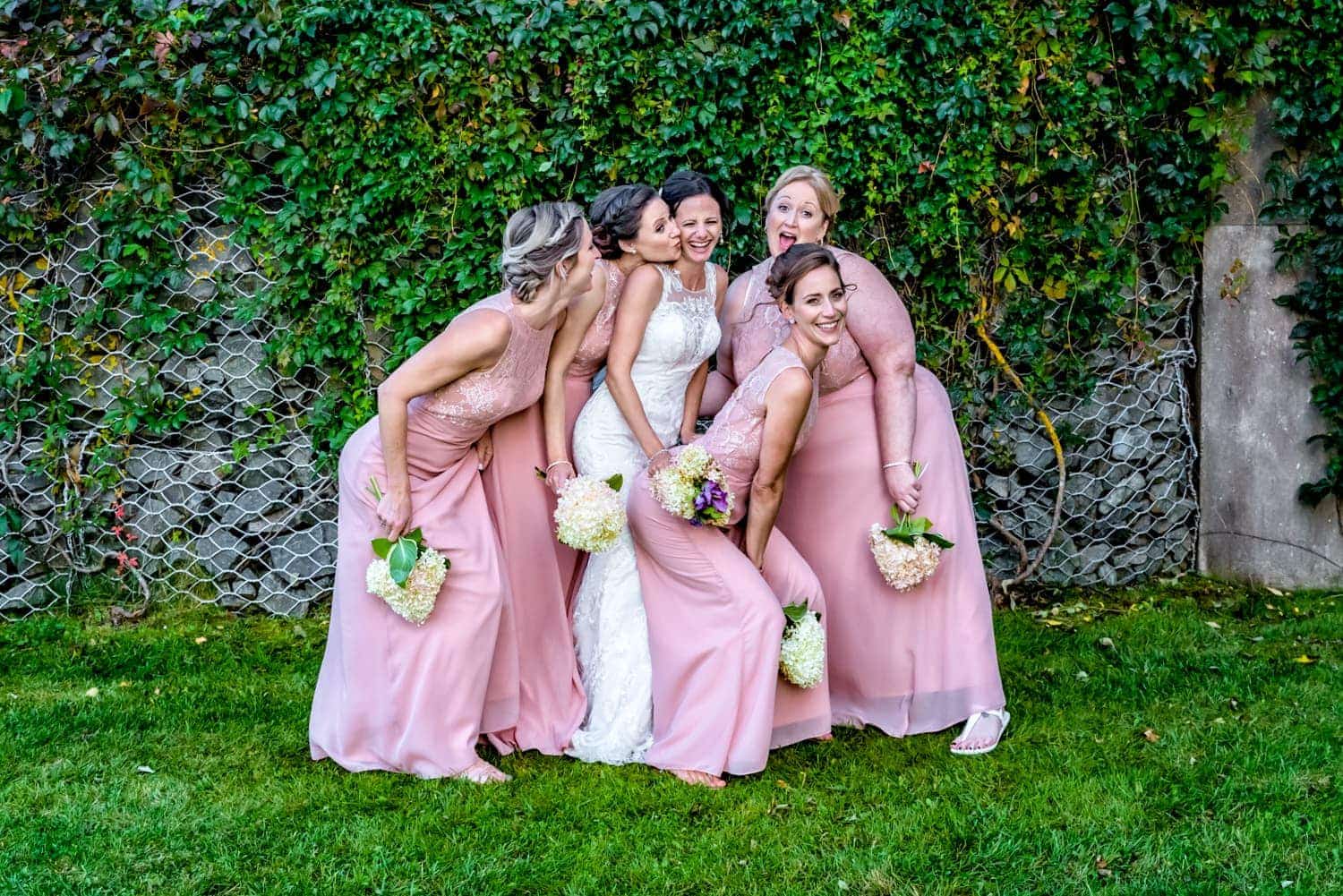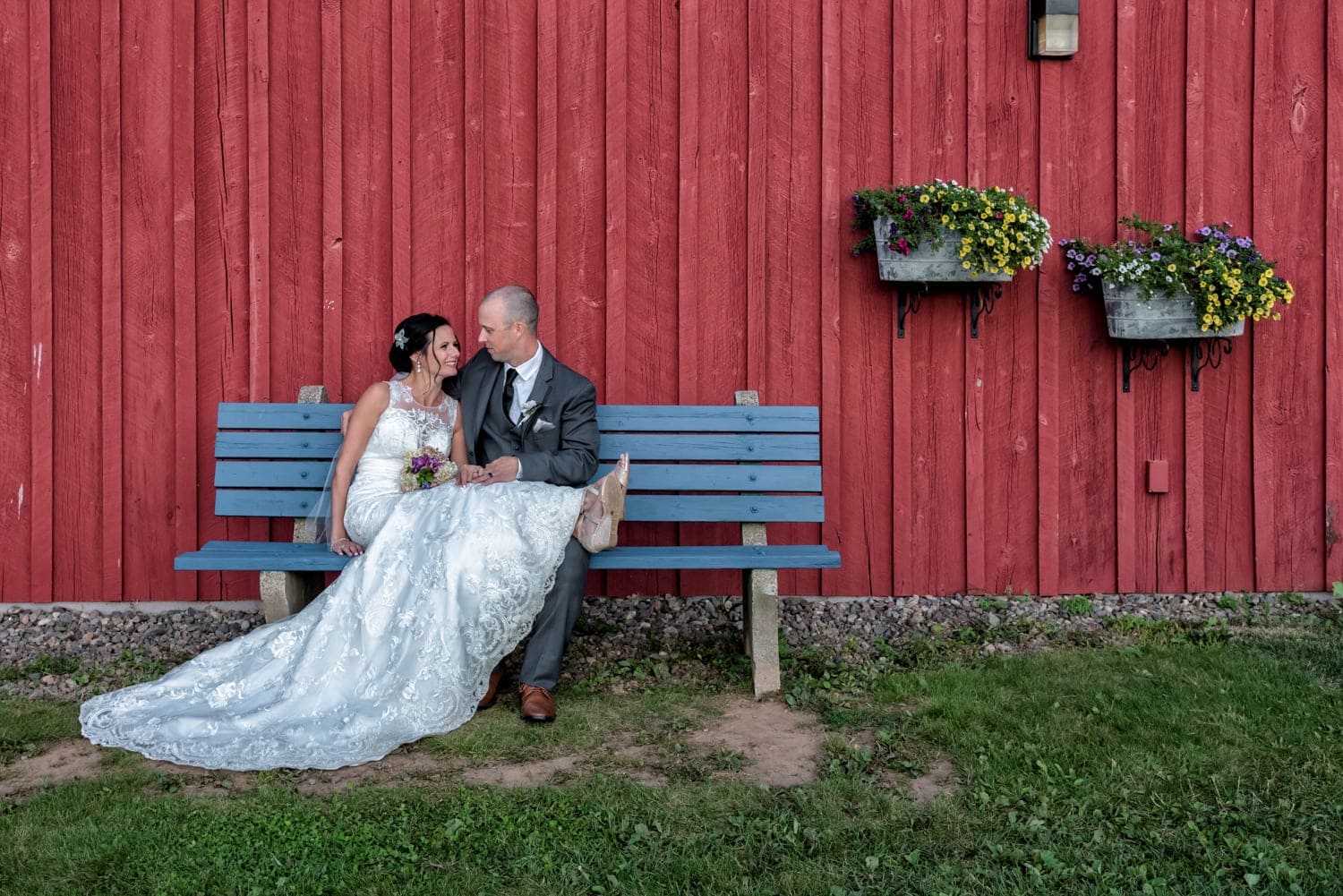 Information Weddings At Old Orchard Inn Heritage Barn Wedding Venue
Have I enticed you enough with the many wedding photos I've highlighted here? Here's a little bit of information on this amazing wedding venue. I hope it helps you imagine what your dream wedding could be like, if you were to choose this venue.
Starting Price
The price range for this wedding venue is $725 to $3000 + HST for a reception venue. There is no minimum to spend for the venue. Ceremony space is only offered to those hosting a reception at this venue. Ceremony fees are additional and range in price from $300 to $1400 + HST.
Guest Capacity
As this wedding venue has four options for your ceremony and reception here is the breakdown of each location for guest count.
Orchard Gazebo 250 guests (ceremony)
Sundeck 150 guests (ceremony)
Orchard Hall 20-250 guests
Heritage Barn 20-125 guests
What's Included With Your Rental
Wedding Ceremony Set Up
Old Orchard Inn provides the basic arrangement of tables/chairs/white linens and such but the decorating is up to the wedding couple or decorator they hire. Included in the ceremony set up are the chairs for your guests to sit in and a wedding arbor (subject to availability & venue room selected). Couples can set up for their wedding day starting at 8am on the day of.
Wedding Reception Set Up
Your reception set up includes tables, tables numbers & stands, chairs, white table cloths & napkins, white table skirting for specialty tables (cake, gift etc). Also included is a podium & microphone for your guest speeches. All cake cutting services and easels for signage. Glassware, dishware, cutlery, bartenders & serving staff for the food & beverage selected for your wedding. Old Orchard Inn will clean up all that we provide so the wedding couple only has to tidy up the items they bring in for decor.
**Chair covers, ceiling treatment, AV equipment are available for an additional cost and subject to availability.
Event Coordinator
They do not have an actual event coordinator. However Cheryl, their Weddings, Social Events & Associations Account Manager, is available to assist with the services they provide.
Permits and Restrictions
Wedding Permits and Other Vendors
No permits required, Old Orchard Inn has you covered. Onsite catering only, with exception for your wedding cake which can be provided by a licensed company. We have a list of preferred vendors however we welcome the opportunity to work with whomever the couple would like to hire.
Alcohol Restrictions
We provide a number of bar service options and only our alcohol is permitted in the reception venue.
Wedding Decor Restrictions
There are a few restrictions for decor no confetti, glitter, rice, bubbles, streamers, flower petals, hay/straw inside the venue please. Candles must be contained in appropriate holders but are permitted.
Noise Restrictions For Weddings
The party can go to 1am but we ask that attendees be respectful when heading back to their rooms as to not disturb other hotel guests.
Contact Information
Old Orchard Inn Weddings website.
Cheryl Nauss – Weddings, Social Events & Associations Account Manager
Email: cherylnauss@oldorchardinn.com
Direct Line: (902) 542-5755 Ext 441 Toll Free: (800) 561-8090
Conclusions
For any aspect of your wedding such as the ceremony, reception, rehearsal dinner and/or accommodations, the Old Orchard Inn & Spa provides an exceptional venue with a stunning panoramic view of the Annapolis Valley. Delicious cuisine, a variety of venues to select from and reduced rates in our renovated guest rooms. With 25 years experience hosting special events, our dedicated and professional staff will provide a flawless and memorable day – who wouldn't want that!
Capturing your L❤VE story is my passion…let's chat!