Last Updated on December 25, 2022 by Sandra Adamson
A Romantic and Elegant Wedding with Julie and Kevin
On a tranquil, serene day with a few scattered showers, Julie and Keith held their romantic and elegant wedding inside Saraguay House. The atmosphere was calm and relaxed. There was a touch of elegance, class and sophistication in the air that day.
The Love Story
Julie and Kevin were first acquainted with each other through their place of work, and there was an unmistakable attraction between them. Despite the fact that there was an obvious attraction between them, she was already in a relationship. During the first two years, they grew to be close friends, passing time together, such as taking Pluto (Julie's dog) for a walk, playing video games, or simply conversing. After two years, Julie's relationship ended. At that moment in time she acknowledged that no other relationship could be as strong or extraordinary as the one she had with Kevin. Their colleagues had seen them together over that time period and everyone agreed that they were meant to be soulmates and best friends. Read more about their love story through their engagement love story blog post.
Advise for the Newly Engaged
Don't forget your wedding is just one day (assuming you don't have a wedding with functions on multiple days!) and you will likely spend months, or even years planning it. Don't be afraid to ask for help! From everyone – your wedding party, your family, your friends. It is too much to do alone. There is no way it can possibly match the vision you have in your head. But it will still be amazing. Focus on enjoying it for what it is.
The Wedding Prep Photos
Julie and her brother, who served as her best man, and a bridesmaid, began the day at a rustic and quaint air bnb with a barn style feel to it. While Kevin traveled to Saraguay House to join his groomsmen in preparation for the wedding day. As guests started to arrive and mingle, Julie and her bridal party arrived and moved to a different room at Saraguay.
The First Look Wedding Photos
Before their wedding ceremony, Julie and Kevin chose to have a first look, an intimate moment shared between themselves before they exchanged vows. The trees and garden just outside Saraguay House provided the perfect setting for a first look.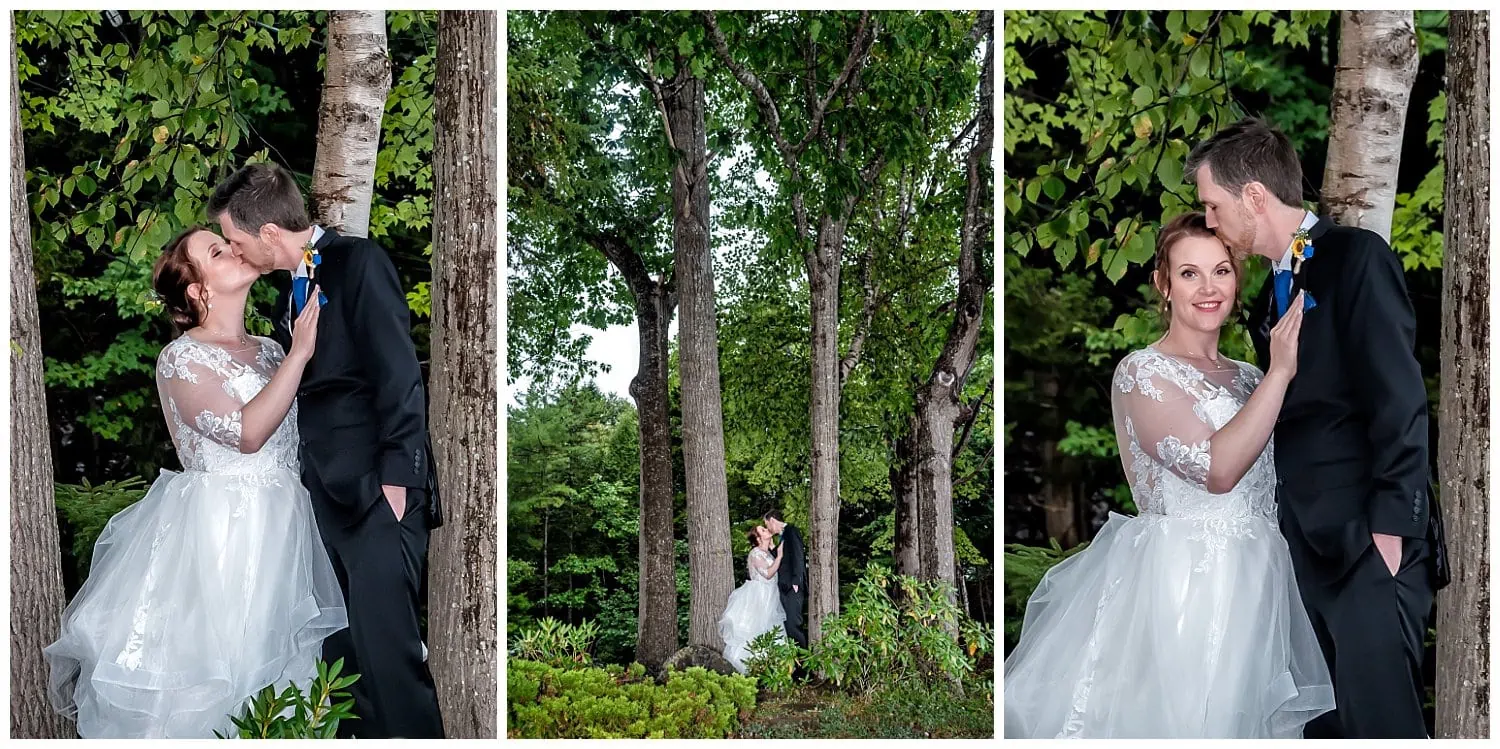 The Wedding Ceremony Photos
Julie and Kevin explored a lot of options for their venue and a large factor in their decision was the cost. They wanted to go with a place that was picturesque yet still have enough money for an amazing honeymoon. Saraguay House had all the features they wanted – like the exposed wood beams and the view of the water – it was ideal and within their budget!
Although we did not have a theme, perhaps it was based on our relationship. Yellow was Julie's favorite color, and Kevin's was blue – so those became our wedding colors. The rest was a mishmash of what we thought looked good and matched our preferred aesthetic – flowers, wood, glass, greenery. It was a unique combination of classic and rustic that worked for us.
Julie said that her favorite part of the wedding was the ceremony since they had a well-regimented script and it was very personal. Moreover, she felt like royalty when she was the last one to enter, walk up the aisle and everyone turned to look at her.
The Wedding Party Photos
Saraguay House is a photographer's paradise for weddings. There is no need to go anywhere else to capture breathtaking wedding images. The interior of the house is a combination of urban brick and rustic vibes, while the gazebo with its views of the ocean, the tall trees on the grounds, and the sea surrounding the wharf, all add up to a magnificent atmosphere
The Wedding Reception Photos
Kevin expressed how much he enjoyed the celebration, adding that the speeches were just as impressive. He found them to be even more meaningful than he had anticipated. Kevin couldn't decide which he liked more, the ceremony or the speeches, as both were filled with emotions and held great significance.
Wedding Vendors
Hair: Tanya Gates – https://www.facebook.com/TanyaGatesMasterStylist
Officiant: Patricia MacDonald – https://www.facebook.com/patmacjusticeofpeace/
Cake Creator: Mercedes Lowther – https://www.facebook.com/SkyesTheLimitCustomCakes
DJ: Larry Peek – Peek's DJ & Dance Party – https://peeksdj.ca/
Wedding Resources
1. Check out some of my favorite wedding advise blog posts…
Planning A Nova Scotia Wedding-a 12 months timeline.
20 Tips For Choosing the Perfect Wedding Venue.
2. For great wedding planning ideas visit the knot and weddingwire!
Capturing your L❤VE story is my passion…let's chat!