Last Updated on January 31, 2022 by Sandra Adamson
A Chocolate Lake Wedding at the Best Western in Halifax with Heather and Neal
Heather and Neal had their wedding in August of 2017, at the Best Western Chocolate Lake Hotel in Halifax. It was a beautiful sunny day for an outside wedding ceremony on the lake.
"We felt from the beginning that Sandra wanted beautiful pictures as much as we did. The final pictures speak for themselves, she captured not only the feeling of the day but every single detail. We couldn't be happier! I still can't get through my video without crying."
~ Heather & Neal
The Wedding Prep Photos
Heather had her hair and makeup done at the Foxy Moon Salon in Halifax. She got ready in one of the hotel rooms with all of her bridesmaids. The atmosphere was relaxed and cozy. Neal visited Sailor Bup's Barbershop in Halifax for a quick cut. He then got ready in a hotel room at the other end of the venue. Both walked to the ceremony in the backyard of the venue.
The Wedding Ceremony Photos
The ceremony was an intimate affair under an arbor in the backyard of the Venue, next to the lake. The arbor was decorated in white chiffon, simple and elegant. Heather walked up the aisle with her mother and father to the theme from Jurassic Park, yes that caught me completely off guard. I'm pretty sure it caught their guests by surprise too as there as a lot of laughter at the time. It was a beautiful and sentimental wedding ceremony.
The Wedding Party Photos
The Wedding Reception Photos
The reception was in the main hall at the venue. They chose the venue as they really wanted a venue where they could hold everything including their formals in the same place. The Best Western is a great venue for all of these reasons. They wanted an outdoor wedding on the water and the lake was perfect. The decorations were simple and elegant, flowers.
The dinner was a buffet style and the food was incredible. The dessert table was awesome! So much to choose from and just so incredibly.
Speeches followed their dinner along with cake cutting, their first dance and a photo booth. It was a great time had by all!!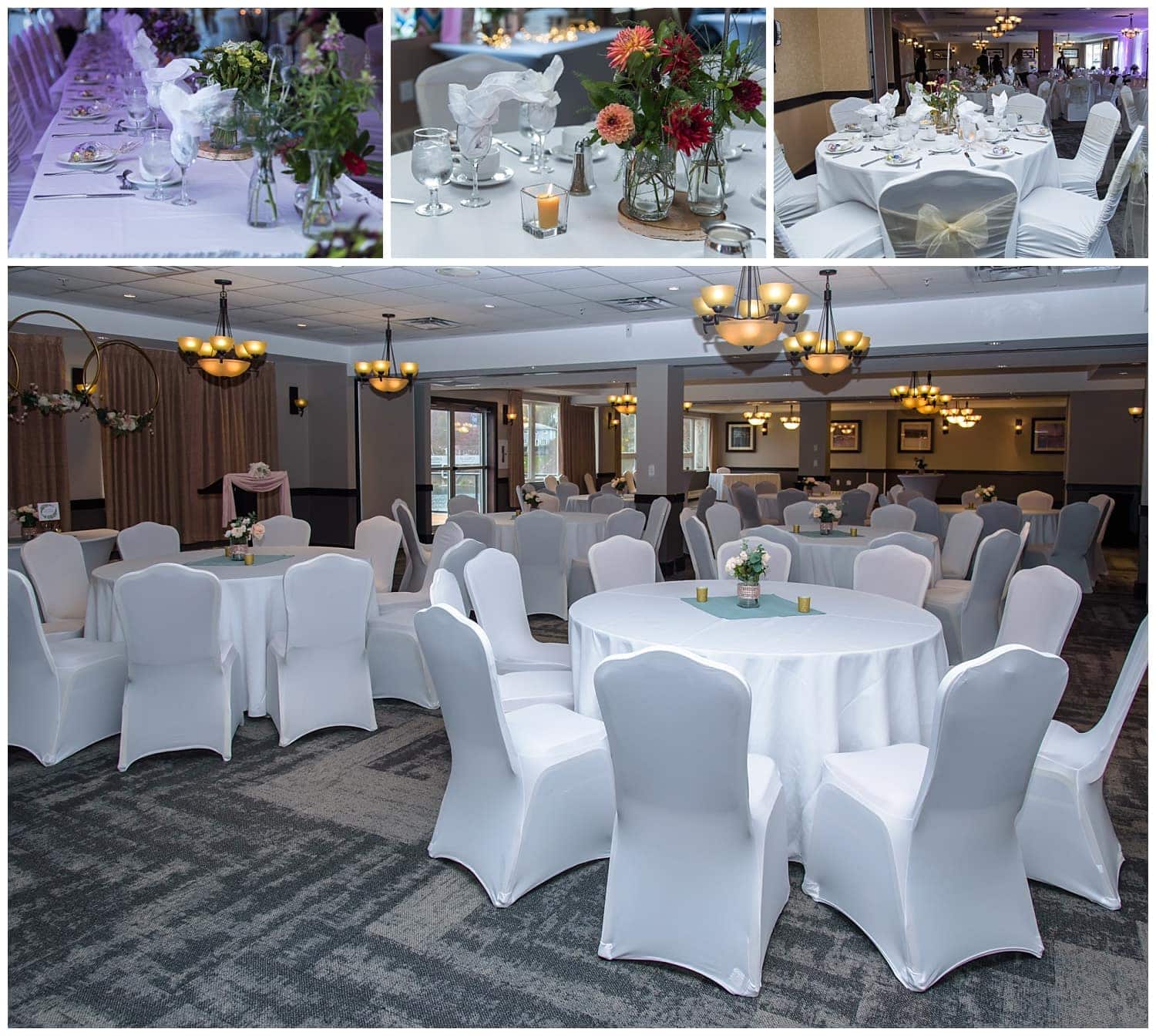 The Wedding Video Highlight Reel
Wedding Resources
1. Best Western Chocolate Lake website.
Capturing your L❤VE story is my passion…let's chat!