Last Updated on July 24, 2022 by Sandra Adamson
Best Western Chocolate Lake Weddings
Best Western Chocolate Lake weddings are absolutely stunning. Have your wedding ceremony on the edge of Chocolate Lake under a beautiful rustic white trellis, surrounded by water and trees. Rates or capacity numbers listed are current when this blog post was first published and are subjected to change at any time.
My Weddings
Check out my favorite weddings for this venue!
The Hotel
This is truly an all in one wedding venue. If you're looking for a wedding venue that allows for your ceremony, formal wedding photos and reception all in one place, this could be the wedding venue for you!
Wedding Ceremonies
If you're looking for a great lakeside wedding ceremony location this wedding venue should be on your list to check out. Leave the rustic white trellis bare or decorate it, make it the ceremony area as unique as you are as a couple. There is a balcony on the back of the hotel which is great for aerial wedding photos! Surrounded by lushes green trees, the lake is quite picturesque. If it should rain, they have plenty of options for indoor wedding ceremonies as well.
Grounds For Wedding Photos
They have a good amount of park and urban like settings around the hotel grounds for your wedding photos, you don't have to leave the grounds unless you want to. You can find rustic beauty anywhere if you just stand back and look. The wooden rustic doors behind the bride and groom in the next two wedding photos are the doors to the hotel's garbage area, believe it or not! Time has changed the appearance of that location but it's still awesome!
There are quite a few scenic areas by the lake for your wedding photos as well. I just love wedding parties that like to ham it up for the camera;)
I always love to scout out my wedding venues ahead of time so I know where to take my couples. Even the front of the hotel has some amazing wedding photos opportunities. From the brick on the walls of the hotel to the gorgeous stone work across the street with hanging green leafy veins, picturesque for wedding photos.
Information On Best Western Chocolate Lake Weddings
Have I enticed you enough with the many wedding photos I've highlighted here? Here's a little bit of information on this amazing wedding venue. I hope it helps you imagine what your dream wedding could be like, if you were to choose this venue. Rates and capacity numbers listed, are current when this blog post was first published. They are subject to change at any time.
Starting Price
Minimum spend (food and beverage) for use of the Lakeview Ballroom will depend on season and the day of the week your wedding falls on.
In low season:
January 1st to April 30th Sunday to Thursday $3500; Friday & Saturday $4000.
High Season:
May 1st to October 31st Sunday to Thursday $5000; Friday & Saturday $6000.
Guest Capacity
The hotel can host up to approximately 180 wedding guests. To accommodate this, it is a tight fit, two tables will be placed on the dance floor.
Included With Your Rental
Your Best Western Chocolate Lake wedding package includes the lakeside lawn with pergola for your wedding ceremony. The wedding night stay is on the hotel in their honeymoon suite! The Lakeview Ballroom is where your wedding reception will take place, with white floor length linen tablecloths and white napkins. Also included is the head table, guest book table, cake table and DJ table all with white skirting. A podium for your guests to speak from during the speeches (no microphone capabilities) A massive dance floor to boogy down with your wedding guests all night. For you wedding cake, a complimentary cake knife and server. Lastly, your wedding guests will receive a discounted rate for guestrooms located on the 4th floor.
Wedding Ceremony Set Up
The venue rental includes set up and tear down of the wedding ceremony location. It also includes white folding chairs for indoor or outdoor weddings. The set up time for your wedding day is dependent on if a wedding is pre booked the night before. Generally speaking the set up takes place the night before the wedding (if not previously booked with a wedding) or commencing at 10am the day of the wedding.
Wedding Reception Set Up
The venue rental includes set up and tear down of the wedding reception location. It also includes tables, chairs, linens, and place settings. All bride and groom supplied wedding decorations must be removed the day following the wedding. However, this is dependent on whether there is a wedding the following day.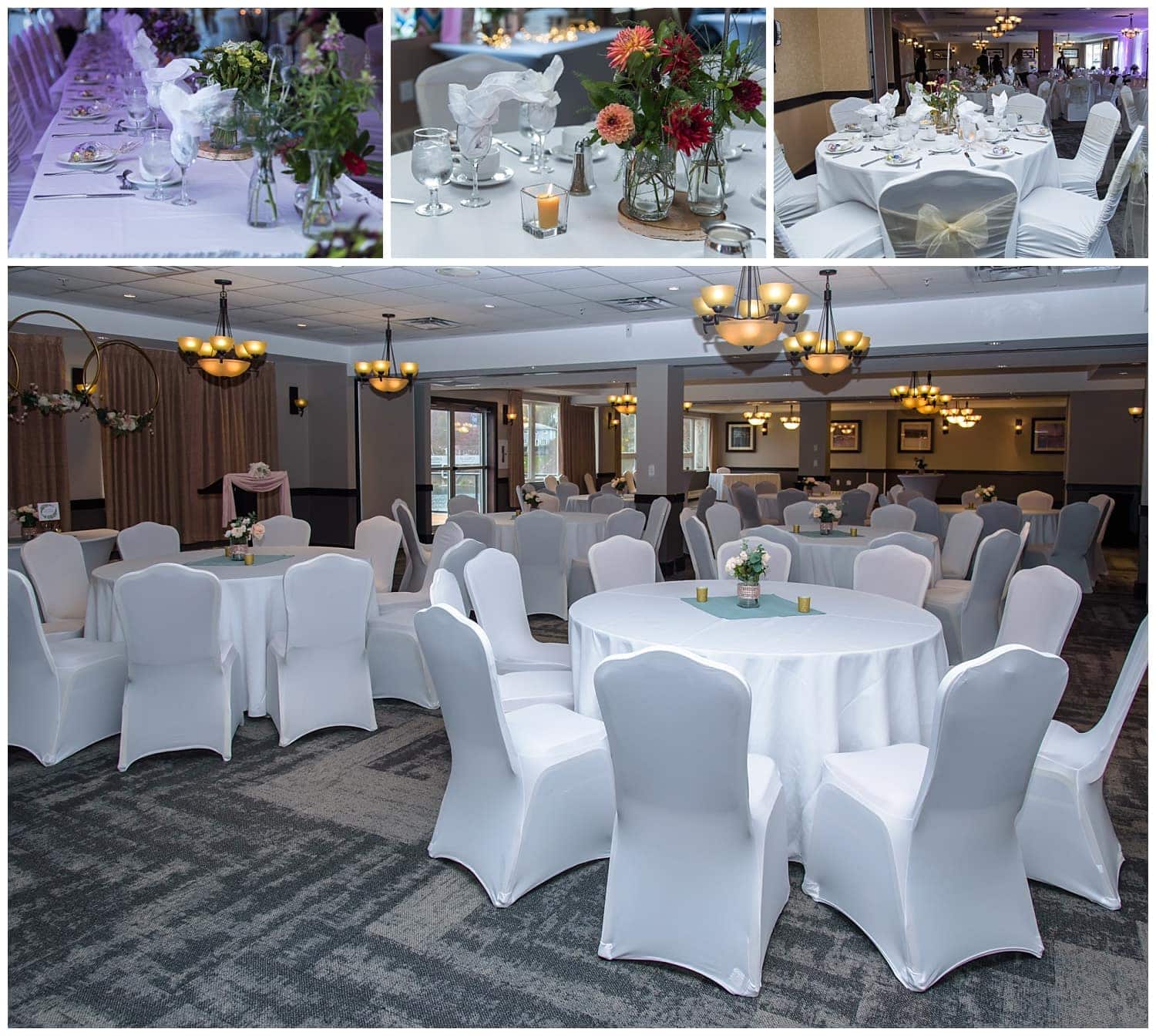 Event Coordinator
An event coordinator is not available. The hotel does have a Hotel Wedding Planner and she is onsite the day of the wedding for any last minute details.
Wedding Catering
The hotel is a licensed establishment. No outside catering is permitted as there is a restaurant onsite. Please inquire with the hotel on their menu. Who needs catering when you have mouth watering food like this on the menu. Check out those desserts! I am getting hungry just looking at these images.
Wedding Vendors
Wedding couples can hire their own vendors, we currently are not working with any preferred vendors.
Permits and Restrictions
Wedding Permits and Other Vendors
No permits are required by the hotel, unless they are lighting fireworks.. campfires etc. Permits are required from the city for those things.
Alcohol Restrictions
An area on the lower level with a covered patio is licensed for alcohol consumption. If given notice, the hotel is able to provide BAR service. Homemade or outside alcohol is not permitted.
Wedding Decor Restrictions
There are no real restrictions for decorations. The hotel may re-evaluate this based on each wedding. This would be dependent on details that are provided to them. No tacks or nails on the walls.
Noise Restrictions For Weddings
The DJ music is required to shut down by 1:00am. Wedding couples are required to rent the 4th floor of the hotel for their guests to prevent any noise complaints from all other guests.
Conclusions
If you love everything you've heard about this venue don't hesitate to contact the Conference Manager for more information on this amazing venue.
Katherine Thomas
events@chocolatelakehotel.com
902-444-8657
Best Western Chocolate Lake Hotel website
Capturing your L❤VE story is my passion…let's chat!