Last Updated on July 16, 2023 by Sandra Adamson
Finding the Perfect Small, Intimate, Micro Wedding Venues In Nova Scotia
Looking for small intimate micro wedding venues in Nova Scotia? For many couples, planning a wedding can be both exciting and overwhelming. With so many decisions to make, from the venue and catering to the guest list and decor, it's easy to feel like you're drowning in a sea of choices. But for those looking for an intimate and unique wedding experience, micro weddings are quickly becoming a popular option.
If you prefer a beautiful, serene, and private setting for your special day, then you might be in the market for a micro-wedding venue. Nova Scotia is home to a variety of venues that cater to small weddings. These venues offer intimacy, beauty, and charm for your special day. Whether you are looking for an outdoor or indoor venue, there is something for everyone in Nova Scotia.
Things to Consider When Choosing a Small Intimate Micro Wedding Venue
Choosing a small intimate micro wedding venue is an important decision. Below are some things to consider when choosing a venue:
Size of the Venue
Make sure the venue can accommodate all of your guests comfortably. You do not want your guests to feel cramped or uncomfortable on your special day. A good rule of thumb is to choose a venue that can accommodate 75% of your guest list. This will allow your guests to move around comfortably and enjoy the venue.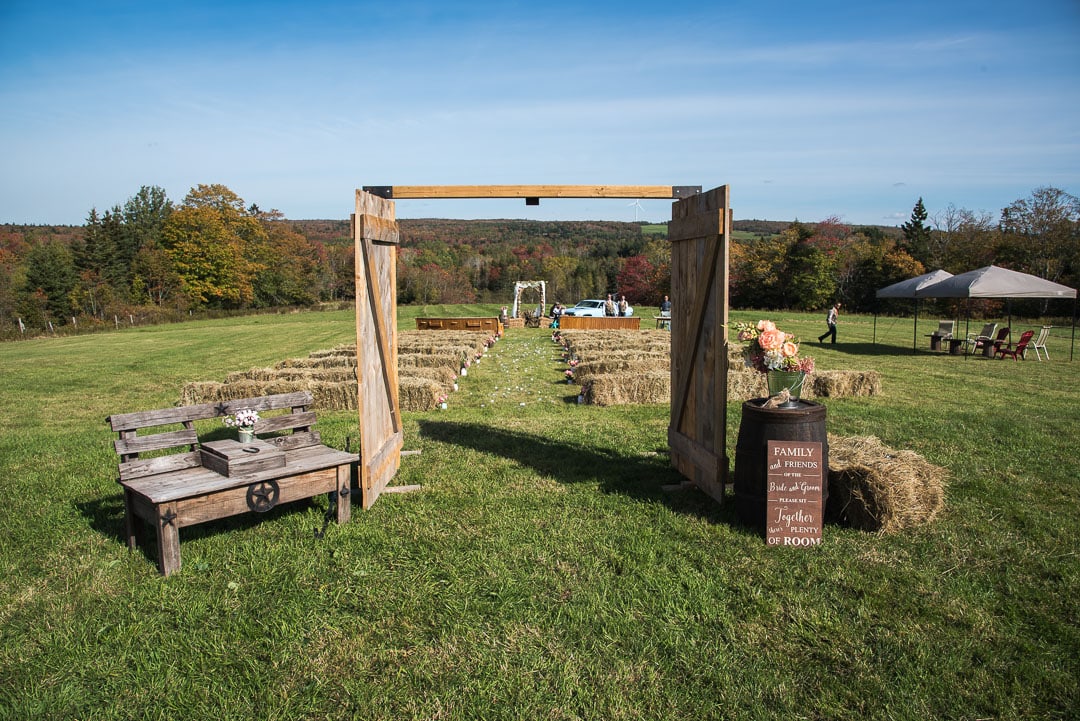 Location of the Venue
Consider the location of the venue when making your decision. Is it easy for your guests to get to? Are there accommodations nearby for guests who need them? Is the venue accessible for guests with mobility issues?
Packages and Amenities
Choose a venue that offers packages and amenities that suit your needs. Some venues offer catering services, accommodation for guests, and wedding planning services. Make sure you choose a venue that offers the services you need to make your special day perfect.
Small Intimate Micro Wedding Venues in Nova Scotia
Check out the small intimate micro-wedding venues Nova Scotia has to offer!
For couples who want to tie the knot in a unique and intimate way, a pop-up wedding may be the perfect solution. These intimate and spontaneous ceremonies are becoming increasingly popular among couples. It's not hard to see why. With their fun and relaxed atmosphere, pop-up weddings take the stress out of traditional wedding planning and allow couples to focus on what really matters: their love for each other.
If you're considering a pop-up wedding, you're in luck. The East Coast is home to some of the most talented and innovative pop-up wedding planners in the country. From New York City to Miami, these experts are changing the way couples say "I do." So, whether you're looking for a beachfront ceremony or a chic urban affair, East Coast Pop-Up Wedding has a package that's perfect for you. Visit East Coast Pop-Up Weddings! Guest Count up to 12.
As a couple planning your wedding, you want your special day to be an expression of your love for each other. You want your wedding to be intimate, personal, and memorable, tailored intimacy.
Enter Elope Halifax weddings. Elopement weddings have become increasingly popular among couples who want to exchange vows in a more intimate and personalized setting. And what better place to elope than Halifax, Nova Scotia? Halifax offers breathtaking scenery, charming architecture, and a rich cultural history, making it the perfect location for a romantic elopement wedding. Elope Halifax will meet you at your chosen location! Visit Elope Halifax! Guest count up to 10.
As a wedding couple, choosing the perfect venue for your special day is one of the most important decisions you'll make. From the enchanting ambiance to the stunning scenery, every detail counts in creating a truly memorable experience. If you're planning your wedding in Halifax, Nova Scotia, you're in luck, because we've got the perfect venue for you: Happily Hitched Halifax Wedding Venue.
Located in the heart of Halifax, Happily Hitched offers everything you could possibly want in a wedding venue and more. From the moment you step inside, you'll be swept away by the elegant decor, the warm urban ambiance, and the downtown chic views. Visit Happily Hitched Halifax!
Guest Count up to 20.
For wedding couples seeking a picturesque and intimate venue for their special day, look no further than Lakeside Weddings. Nestled in Porters Lake Nova Scotia, this serene lakeside location offers a stunning backdrop for couples looking to exchange vows surrounded by nature's beauty. Whether you envision an outdoor ceremony with panoramic views of the lake or an intimate indoor affair, Lakeside has everything you need to make your dream wedding a reality.
From the moment you arrive, you'll be swept away by the tranquillity and charm of this hidden gem. The lush greenery, crystal-clear water, and fresh air create the perfect ambiance for a romantic celebration. Imagine exchanging vows with the gentle lapping of water in the background and the sun setting over the lake. The natural beauty of the surroundings creates a peaceful and intimate atmosphere that is hard to replicate elsewhere. Visit Lakeside Weddings! Guest Count up to 75.
Just minutes from the Armdale Rotary on Herring Cove Road is an absolutely stunning, rustic, romantic-style micro-wedding venue. With a beautiful private balcony for guests to enjoy, if you are a couple that would love to wed in a romantic and elegant candlelit ceremony this is the venue for you. Visit One Day Social Affair. Guest Count up to 50.
Are you and your partner ready to tie the knot and want a beautiful, stress-free wedding day? Look no further than Snowflake Weddings in beautiful Fall River, it is an intimate oasis! This venue is perfect for couples who desire a cozy and romantic indoor setting to celebrate their love. Visit Snowflake Weddings! Guest Count up to 10.
Surrounded by flower gardens and an enchanted forest. You will find peace, tranquillity and the beauty of nature at the Greenhouse in Somerset, NS. Imagine your wedding ceremony set to the music of the birds singing and all that mother nature has to offer. Visit the Greenhouse on Strawberry Lane. Guest count up to 50.
The epitome of elegance and natural beauty for your dream elopement wedding. Are you dreaming about a beautiful wedding by the lake? Glistening waters, a gentle breeze, and the promise of forever. Picture yourselves standing hand in hand, surrounded by nature's splendour, as you exchange your vows in an intimate ceremony that is as breathtaking as your love story. Visit The Lux. Guest count up to 12
Nestled in the heart of Nova Scotia's picturesque Annapolis Valley, the Wolfville Wedding Chapel is a hidden gem that offers a unique and intimate setting for your special day. With its stunning elegance and cozy ambiance, the Wolfville Wedding Chapel is the perfect place to say "I do" and start your happily ever after.
The gorgeous gazebo right on the water behind the chapel is an amazing location for your family and wedding party formal images. A beautiful park adorned with rocks and pathways, overlooking the water. More details on this quaint venue-Spotlight on The Wolfville Chapel. Guest Count up to 20.
Conclusion
Nova Scotia is home to some of the most beautiful and intimate micro-wedding venues in Canada. Whether you are looking for an outdoor or indoor venue, there is something for everyone in Nova Scotia. When choosing a venue or location for a micro wedding, consider the size of the location, the location itself, and the packages and amenities offered. With the right venue, your small intimate micro wedding in Nova Scotia will be a day to remember forever.
Wedding Resources
1. For great wedding planning ideas visit the knot and weddingwire!
Capturing your L❤VE story is my passion…let's chat!