Last Updated on February 6, 2023 by Sandra Adamson
My Favorite Nova Scotia Waterfront Wedding Venues
Nova Scotia Waterfront wedding venues are some of the more beautiful venues to consider for your wedding day. I've compiled a list of my favorite Nova Scotia Waterfront Wedding Venues for you to look at! Rates and capacity numbers listed are current when this blog post was first published. They are subjected to change at any time.
This is a great location for a wedding! A beautiful lake lies just beyond the outdoor ceremony space which is adorned with a white wedding arch trellis. Feel free to decorate or leave it bare. Either way it's a little bit of rustic in a park like setting. The option of having your wedding ceremony inside if it rains is an option. The grounds are amazing. If you are a couple who doesn't really want to leave the wedding grounds, there are lots of picturesque urban and park setting areas around the hotel.
Capacity up to 200, starting at $1850. Get even more information from my spotlight blog post on this amazing.
Fisherman's cove is a very quaint rustic style wedding venue right on the Atlantic ocean. It is situated on the Eastern Passage boardwalk and sites among the fisherman shacks of small businesses. The ocean is right at your fingertips with this venue. The boardwalk runs through the small fisherman shacks, through the beach area and along the oceanside. It is a magical location for sunset pictures. The beach is just steps away from the back doors of the venue.
Capacity up to 150, starting at $800. Hours 10am to 1am.
Another beautiful location, Saraguay House. It is located on the Northwest Arm. They have a beautiful gazebo where the outdoor ceremonies take place. A stunning rustic wooden wharf, adorned with lights, jetting out into the ocean. Should it rain, they have an indoor option as well. Both the indoor wedding ceremony and reception areas have windows going down the entire side of the building with beautiful views of the ocean.
Capacity up to 100-150 depending on wedding style.
An absolutely gorgeous wedding venue right on the Atlantic ocean, near Peggy's Cove, NS. It has a stunning beach line for wedding pictures and lots of cabins for guests. Ceremonies can be held outdoors by the ocean or indoors. The indoor ceremony and reception area has beautiful large windows with the view of the ocean and a cozy fireplace. It is a very elegant and quaint wedding venue and definitely shouldn't be overlooked.
Capacity up to 100 guests in the great room, 125 guests with the use of a tent. Pricing is based on season and given during a consult.
I've showcased this venue more in my barn wedding venues blog post. If you love a truly rustic wedding venue this is the one for you. The outdoor ceremony location is right on a lake under a rustic white wooden wedding arch trellis. There are so many picture opportunities around this venue, it's an all inclusive deal.
Capacity of 250, starting at $850.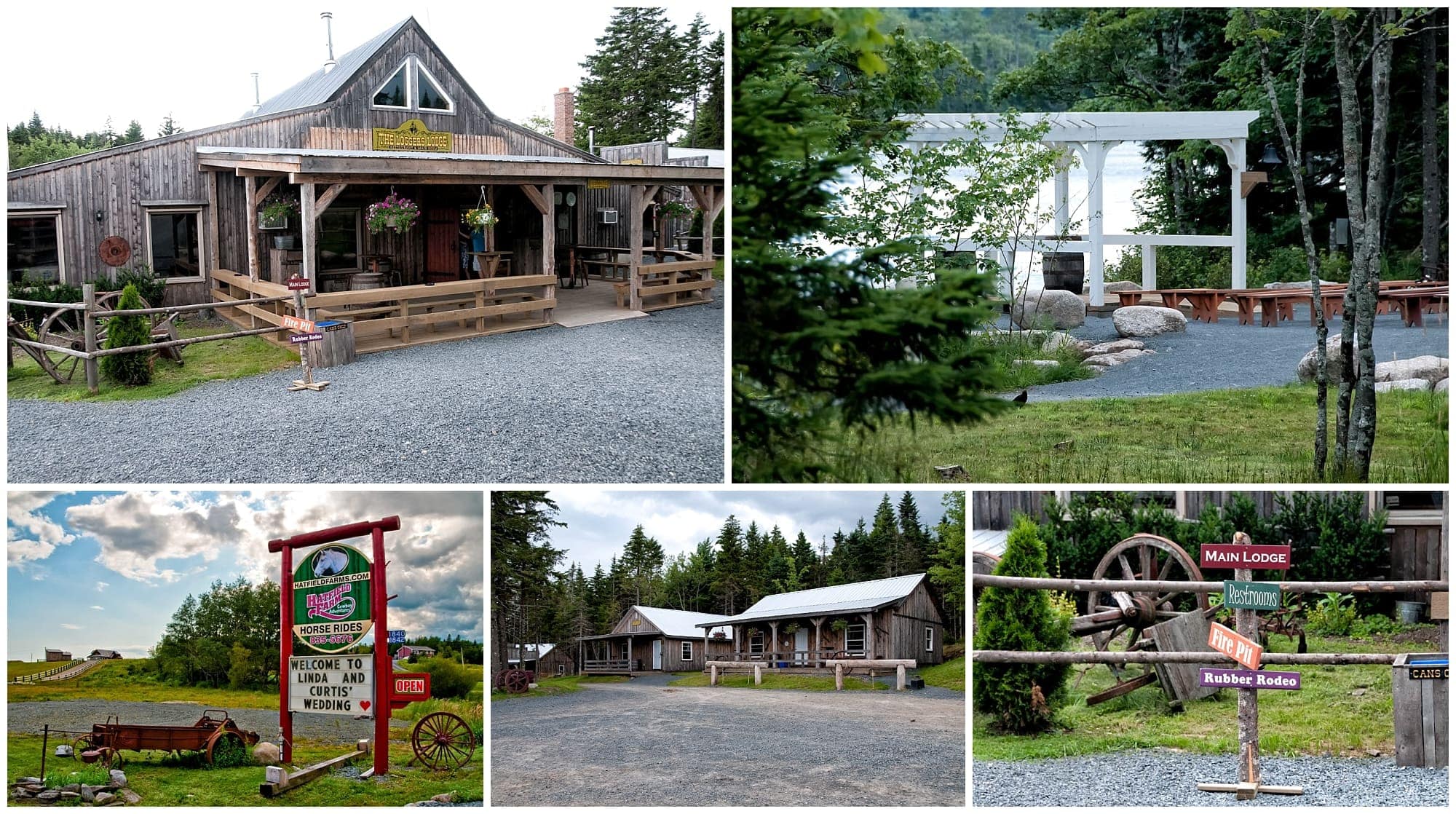 Check out many of the local HRM parks that allow weddings, like Sir Sandford Fleming Park/Dingle Tower, Sullivan's Pond, the DeWolfe Park on the Halifax Harbourfront or Point Pleasant Park.
Another great HRM park for a wedding is the picturesque Sir Sandford Fleming Park with it's quaint white gazebo.
Capacity and Pricing varies depending on park location.
Or how about having your wedding ceremony and reception right on the Halifax harbourfront? Nina and Ryan had their entire day right on the Halifax harbourfront with the Halifax bridges in the background.
A truly hidden gem in Glen Haven, right on the Atlantic ocean. This venue has an awesome balcony area overlooking the ocean. Wharfs that jet out into the ocean and a balcony area inside the hall to take amazing pictures of the reception area from above. During the reception, when the sun goes down, the have lights hanging across the ceiling area overhead. I love hanging lights of any kind.
Capacity up to 150, starting at $995
September 7th, 2019's hurricane wasn't going to stop Kesley and Michael from getting married. They postponed their ceremony by three days opting for a wedding at the Swiss Air Monument in Peggy's Cove, literally right on the ocean. Their wedding reception followed one month later at the St Margaret Sailing Club.
Saint Mary's Boat Club Halifax, NS – Capacity of 200, Starting at $700.
This resort is amazing and offers both an ocean side wedding or a lake side wedding, take your pick! Personally, I am in favor of the ocean side wedding. I love hearing the waves crashing on the beach, such a soothing sound for me. Your guests have many options for accommodations. Have your reception in the main hall or the lake side hall.
Capacity up to 300. Get even more information from my spotlight blog post on this beautiful waterfront venue.
If you're looking for a quaint small wedding venue right on the ocean this may be just what you're looking for. Definitely better then the courthouse style wedding, it is a Las Vegas style chapel in Wolfville, Nova Scotia. Get even more information in my spotlight blog on this cute little Wolfville wedding chapel.
Lakefront Wedding Venue Links On My Bucket List:
Inn on the Lake Fall River, NS – Capacity of 50, starting at $1125.
Oceanfront Wedding Venue Links On My Bucket List:
Fox Harbour Resort Wallace, NS – Capacity up to 170, starting at $5250.
Keltic Lodge & Resort Igonish, NS – Capacity up to 160 guests.
Lanes Privateer Inn Liverpool, NS – Capacity between 150; Contact for pricing.
Mercy River Chalets Caledonia, NS
Oak Island Resort Capacity up to 240, starting at $500.
Quarterdeck Resort Summerville Beach, NS – Capacity 40, Contact for pricing.
Boat Club Wedding Venue Links On My Bucket List:
Shining Water Marine Tantallon, NS – Capacity of 200, starting at $1999.
Wedding Resources
1. For great wedding planning ideas visit the knot and weddingwire!
Capturing your L❤VE story is my passion…let's chat!